Just as goalkeepers come in all sizes, so do football goalkeeper gloves. Wearing the correct glove size can have a major bearing on performance, which is why it's crucial for keepers to ensure the fit of their gloves allows them to perform at their best.
As mentioned above, having gloves that are comfortable and fit properly is essential for any goalkeeper which is why we've put together this handy guide on goalkeeper glove sizes. The guide will help you establish what size glove you will need, including information on how to measure your glove size and offering advice on which FORZA goalkeeper gloves might be best suited to your needs.
Goalkeeper Glove Sizes
The table below outlines what size goalkeeper glove is typically suited to each age group. Whilst the below will be accurate for many, it's well worth using the goalkeeper glove chart below the table which outlines how you can measure your hand size for gloves.
| SIZE | AGE | MEASUREMENTS |
| --- | --- | --- |
| 4 | 6-7 YEARS | 5.9IN (15CM) |
| 5 | 8-9 YEARS | 6.3IN (16CM) |
| 6 | 10-11 YEARS | 6.8IN (17.2CM) |
| 7 | LARGE YOUTH | 7.2IN (18.2CM) |
| 8 | SMALL ADULT | 7.6IN (19.4CM) |
| 9 | MEDIUM ADULT | 8IN (20.4CM) |
| 10 | LARGE ADULT | 8.5IN (21.5CM) |
| 11 | XL ADULT | 8.9IN (22.6CM) |
How To Measure Goalkeeper Glove Size
It's actually really straight forward to measure your hand to determine the best glove size for you. If you have a ruler or tape measure you can take the following steps to find out your glove size.
Step 1 - Palm Width - measure the width from the bottom of your little finger to the bottom of your index/pointing fingers (measurement A in the chart)
Step 2 - Palm Width Including Thumb - measure the width from the bottom of your little finger to the end of your outstretched thumb (measurement B in the chart)
Step 3 - Palm Length - measure from the tip of your middle finger to the base of your palm (measurement C in the chart)
Once you have these measurements you can use the table below to determine the best size goalkeeper glove for you.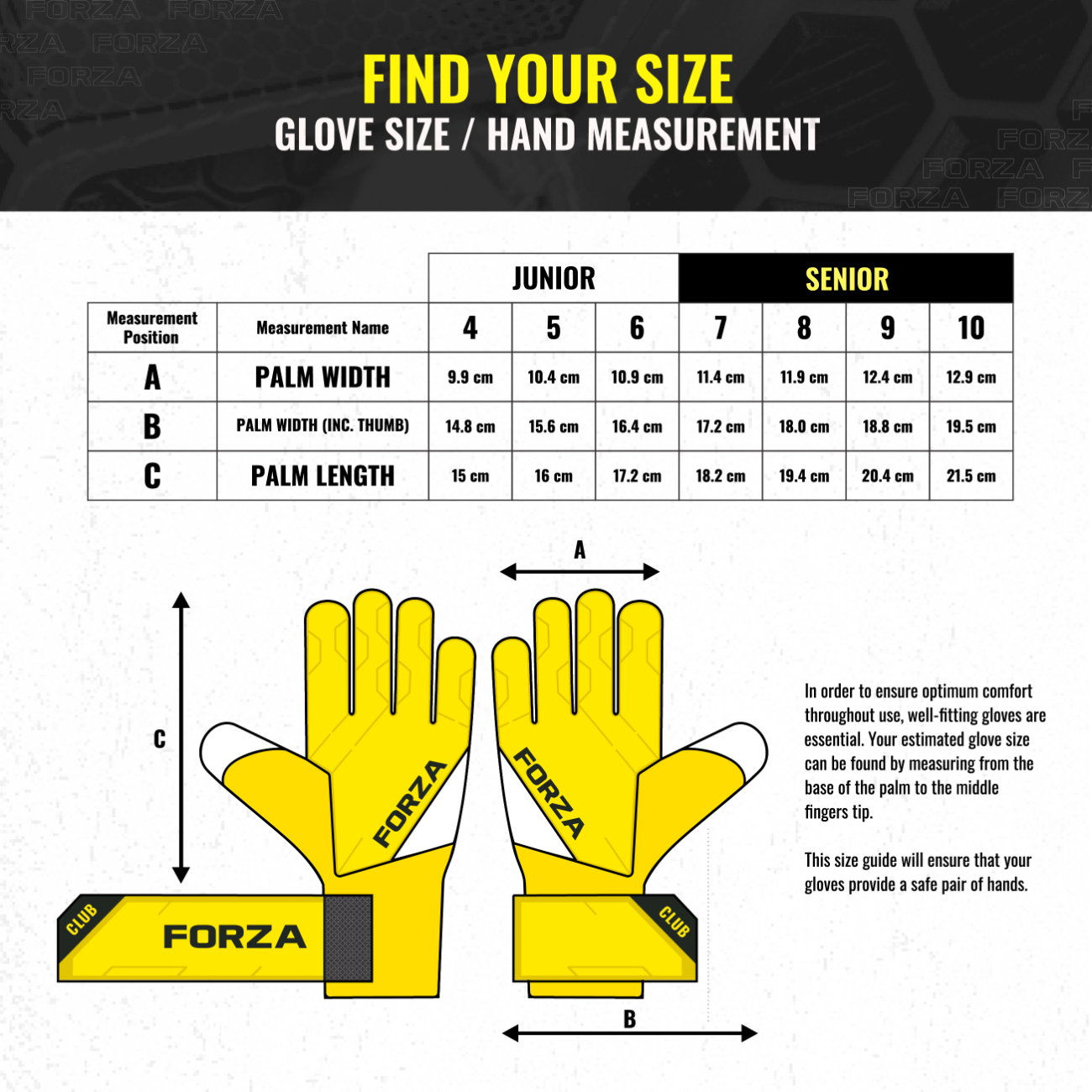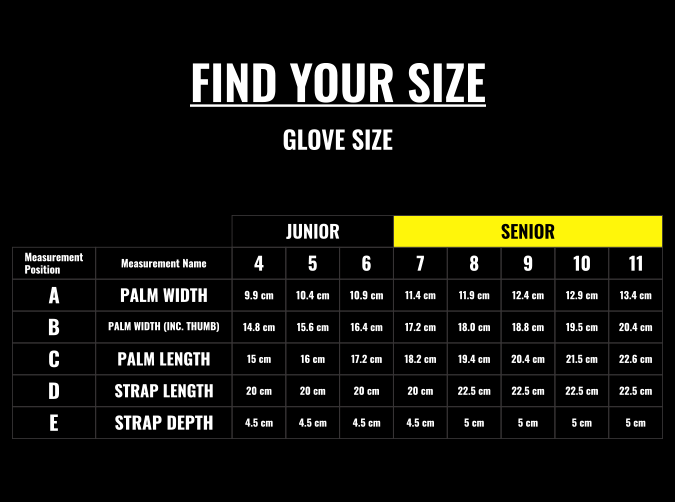 There are a couple of points worth noting with the above. You may find that the different measurements you take fall within different sizes in the table. If that's the case many keepers' tend to use the palm length measurement to decide which size goalkeeper glove to buy.
You should also keep in mind that some goalkeepers may have a personal preference when it comes to glove fit. Some may prefer gloves that are a little longer and broader, whilst other goalkeepers might opt for slightly smaller gloves that offer a tighter fit.
Which Goalkeeper Gloves Should You Buy?
If you've used the guide to measure your glove size you should now have a good idea of what size goalie gloves you need. If that's the case it's now time for the exciting part - choosing which gloves to buy! At FORZA we have three types of goalkeeper gloves for sale - FORZA Sicuro, FORZA Centro and FORZA Mondo. To help you decide which glove is best suited to you we've put together this graphic to show the different specifications of each glove.
Click Here To Download FORZA Goalkeeper Glove Guide PDF
All three glove models are available in a range of different sizes so whether you're a parent looking for a first pair of kids goalkeeper gloves for your child or a senior player looking for new goalie gloves we have you covered! We also have a fantastic range of goalkeeper training equipment available including rebounders, contact training pads, ball launchers, mannequins and more.