FORZA Pro Futsal Balls [FIFA Quality]
FORZA Pro Futsal Balls [FIFA Quality]
FUTSAL REGULATED MATCH BALLS
ENHANCED PASSING SPEED
The durable casing on the official futsal ball is coated in a PU material to provide increased speed & velocity when passing the ball.
STABLE REBOUNDS
Futsal balls are fitted with two air cushions. Made from EVA foam, providing increased speed of returns which are ideal for rebounds.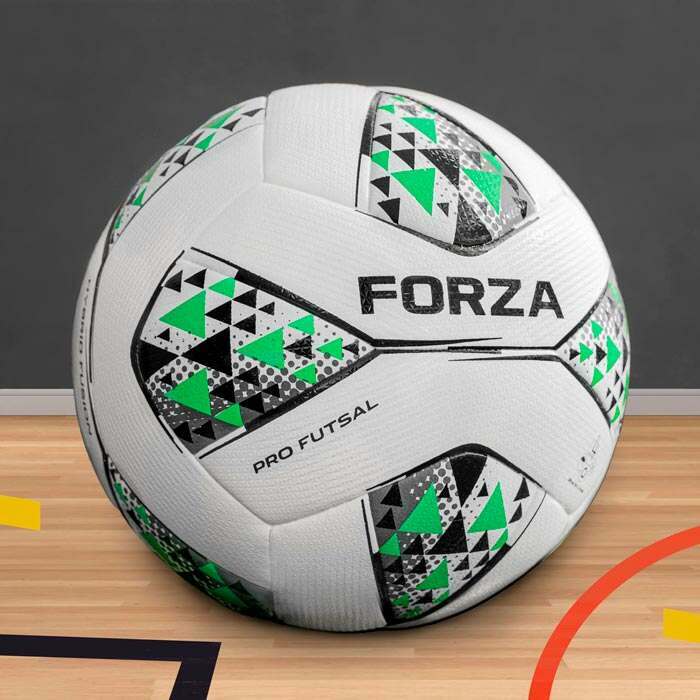 EXCELENT BOUNCE
The Butyl bladder design ensures that a low bounce is created, making it perfect for indoor games. Enhancing ball control.
Description
FORZA futsal match balls – available in various pack sizes
The futsal balls are available in size 3 & size 4 and are supplied in packs of 1, 3 & 12. Improve key futsal skills such as ball control, first touch, passing & shooting. The balls are fitted with a Butyl bladder filled with polyester fibres to provide optimal air retention which enables the ball to bounce perfectly each time. Suitable to be played on multiple surfaces from grass to indoor pitches. Manufactured with a PU casing which is water & tear resistant to maintain long-lasting use.
Ideal for futsal teams of all levels from amateur to professional
Futsal ball size 3 & size 4 available in packs of 1, 3 & 12
Coated in a PU material to provide players with increased passing speed
Develop & improve key futsal skills in training ready for matchdays
Water & tear resistant to maintain long-lasting use
Specifications
FORZA PRO FUTSAL BALL SPECIFICATIONS
DIMENSIONS
Size 3: 20cm L x 20cm W x 20cm H | 7.9in H x 7.9in W x 7.9in H
Size 4: 22cm L x 22cm W x 22cm H | 8.7in H x 8.7in W x 8.7in H
MATERIALS
Reinforced with a layer PV & made using an interweaving method
Laminated with high ammonia latex and treated with 60% dry rubber for longevity
Print of the ball is made using reactive & cross-linked PU ink for scratch resistance
Material Composition: Polyurethane based material on microfibre backing
PU material allows for high level of performance due to the elasticity of the material
PU is also water & tear resistant, meaning it is a common choice of material for premium balls
Bladder: Butyl 2200y of polyester for better air retention than latex balls
The use of high percentage of butyl for the bladder allows the ball to retain its shape better
Casing Material: Hi abrasion PU for multi-surface use and provides consistent performance
MISCELLANEOUS
24 panel futsal match ball
Size 4 ball conforms to Official Futsal Match Regulations
Don't just take our word for it
Want to chat?
Contact us here and we'll get back to you as soon as possible.
Buy today, play tomorrow
Order by 9pm for next day delivery
Questions & answers
Ask fellow customers what they think!
Hide Q&As
Questions & Answers
No one has asked a question yet!