RapidFire Mega X Football Rebounder
RapidFire Mega X Football Rebounder

Heavy Duty Football Rebounder With High And Low Rebound Net Areas For Multiple Skills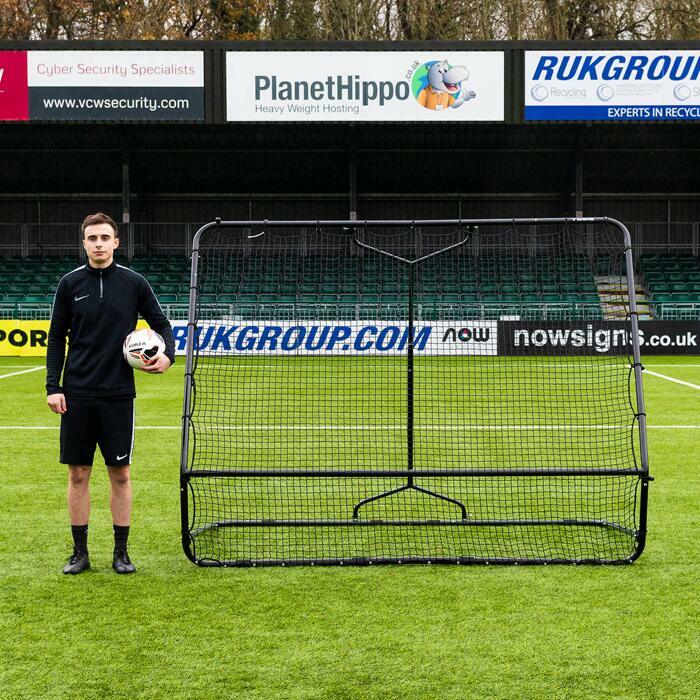 Small Or Large Football Rebounders
Whether you're looking for football training equipment for juniors or the best rebound net for senior teams the versatile RapidFire Mega X Football Rebounder comes in two sizes to suit all age groups. The small and large rebound nets provide the same high quality to all players.
Fully Adjustable Angles For Ball Delivery
The dual-angle football rebounder nets offer high and low ball trajectories, with an adjustable angle functionality which makes the multi-skill football training rebound net perfect for a wide variety of drills. The adjustable angles allow for coaches to fully maximise their time spent on the training pitch.
Heavy-Duty Steel Frame And Rebound Net
Fully weatherproof and built to last, the football rebound wall has been made form ultra-durable 38mm OD galvanised steel with snap button assembly joints for ease of assembly with an equally strong 2mm polyethylene rebound net which is highly reactive and includes bungee net ties for secure attachment to the frame.
Description
RapidFire Mega X Football Rebounder – Premium Football Coaching Rebound Net With High And Low Rebound Areas
Featuring two rebound areas for high and low ball deliveries, the RapidFire Mega X Football Rebounder is the best way to improve a wide variety of skills. The professional football rebound net can be used to work on everything from first touch to heading, providing high levels of value to football coaches at all levels. With small and large football rebound wall sizes to choose from, the bounce back rebounder can be used to put your youth and first teams through their paces.
High and low rebound areas with the capability to be fully adjustable
Small (5ft x 6ft) and Large (7ft x 8ft) football rebounders
Frame is made from all-weather 1mm thick 38mm OD galvanised powder coated steel and anti-slip feet
Netting is 2mm knotless polyethylene with a mesh size of 28mm and net saving technology
Quick and easy no-tools required assembly process facilitated by the snap button joints
The dual-angle football rebounder net can be assembled without the need for any tools thanks to the integrated snap button joints which bonds the rebounder frame together quickly and easily. Fully freestanding with anti-slip rubber feet for extra stability, the high-quality football bounce back rebounder is suitable for use on all surfaces. For enhanced ease of assembly, it is recommended that the football rebound wall is set up by two people.
Made from 38mm galvanised steel, the heavy-duty football rebounder is capable of handling regular use without incurring wear and tear, with a black powder coating which allows it to perform in all weather conditions. There's no need to constantly dismantle the weatherproof rebound net after use as its all-weather design protects the frame from rust and corrosion when left outdoors throughout the season.
Featuring a firm and taut 2mm knotless polyethylene net, the dual-angle football rebounder provides high and low bounces which are perfect for working on multiple skills with one piece of coaching equipment. The football rebound net has a substantial mesh size of 28mm and is extremely responsive to ball deliveries, providing stronger rebounds the harder the ball is struck. Bungee cords are included to attach the football bounce back net with ease.
To tailor your training sessions, the fully adjustable football rebounding wall allows the angle of the ball deliveries to be altered in accordance with your specific training drill. Providing both high and low rebounds, the football rebounder is the ultimate training equipment for ground passing, ball control, goalkeeper catching and diving drills as well as being perfect for volleying, shooting and heading. A truly versatile piece of coaching equipment, this football rebound net is certain to improve your technique.
Specifications
RapidFire Mega X Rebounder Specifications
Size Options
Small - 5ft x 6ft (1.5m x 1.8m)
Large - 7ft x 8ft (2.1m x 2.4m)
Materials
Rebounder Frame - 1mm thick 38mm OD galvanised steel powder coated black
Rebound Net - Made from 2mm knotless polyethylene with a 28mm mesh
Miscellaneous
Rebounder angle is fully adjustable
Weatherproof and freestanding
Features revolutionary net saving technology
Anti-slip rubber feet on the frame
Snap button assembly joints for quick assembly
Dual-angle rebounder with and low rebound sections
Bungee ties included
It is recommended that the rebounder is assembled by 2 people
Don't just take our word for it
Want to chat?
Contact us here and we'll get back to you as soon as possible.
Buy today, play tomorrow
Order by 9pm for next day delivery
Questions & answers
Ask fellow customers what they think!
Hide Q&As
Questions & Answers
No one has asked a question yet!
You may also like
FORZA Football Rebound Wall
£164.99
Jumbo Football Rebounder Net (9ft x 7ft)
£149.99