FORZA GK Ball Deflection Ramp [30"]
FORZA GK Ball Deflection Ramp [30"]
DUAL ANGLED RAMP FOR DIVERSE GK TRAINING
Unpredictable ball movement
The ramp generates unpredictable ball movement for shots directed at the ramp. With the ramp placed in front of the goal, the goalkeeper will have to remain alter & react quickly.
DUAL SIDED RAMP
The 2-sided deflection ramp boasts 2 angles: 20° and 35° to add a wide variety and diversity in goalkeeper training sessions. Can be used for a multitude of different passing & shooting drills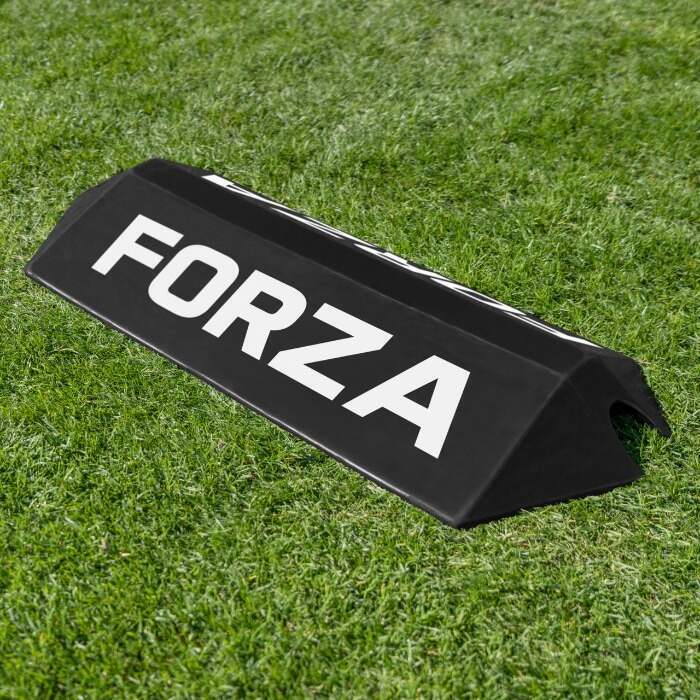 USE WITH FORZA DEFLECTORS
The FORZA GK Ramp is designed to be compatible with all FORZA GK Ball Deflectors. You can use the ramp for goalkeeping training on its own or set it up and use with the GK deflectors.
Description
Generate unpredictable ball movement for diverse GK training
An essential addition to your goalkeeping training equipment. The deflection ramp is the perfect tool to test your goalkeepers abilities. Striking the ball at the ramp will force the goalkeeper to have to adjust their positioning & focus due to the change of direction to the football. Both sides of the deflection ramp have a different angle, 20° and 35°, to diversity your goalkeeping techniques.
Ideal training equipment for football clubs of all sizes & schools
Allows footballs to change direction to catch goalkeepers off guard
Manufactured from ultra-durable & hard-wearing for long-lasting use
Ramp measures 79.2cm L x 30.9cm W x 7cm H | 31.1in L x 12.1in W x 2.7in H
Specifications
FORZA GK DEFLECTION RAMP SPECIFICATIONS
Dimensions
Ramp: 79.2cm L x 30.9cm W x 7cm H | 31.1in L x 12.1in W x 2.7in H
Angles: 20° and 35°
Materials
Manufactured from durable rubber
Miscellaneous
Ramp has 2 sides with different angles for variety in training drills
Ideal for placing FORZA GK Ball Deflectors or using on its own
Don't just take our word for it
Want to chat?
We're here on

live chat

right now!
Or via phone or email if you'd prefer...
Buy today, play tomorrow
Order by 9pm for next day delivery
Questions & answers
Ask fellow customers what they think!
Hide Q&As
Questions & Answers
No one has asked a question yet!