FORZA FLASH Pop-Up Football Goals
FORZA FLASH Pop-Up Football Goals

FORZA Flash Pop-Up Football Goals - Multi-Purpose Mesh Training Goals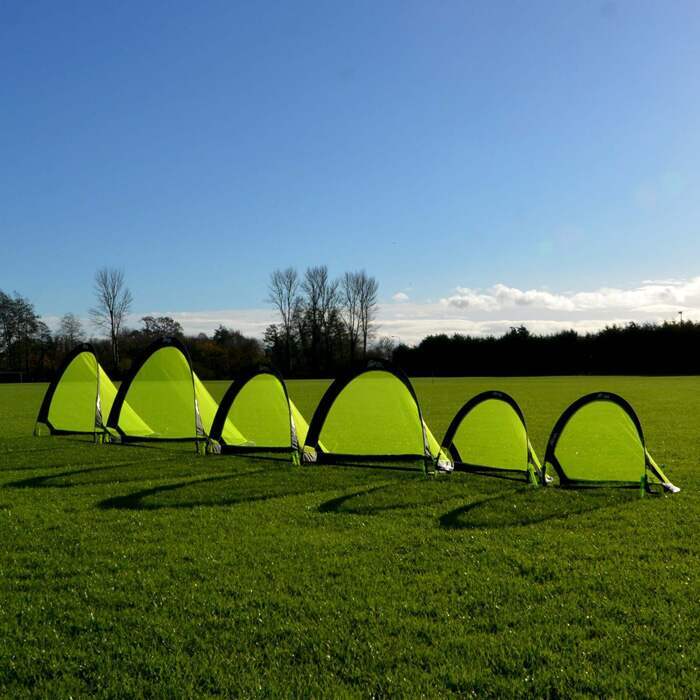 Three Sizes Of Football Training Goal To Adjust The Difficulty Of Drills
The FORZA Flash Pop-Up Football Goals come in sizes of 2.5ft, 4ft and 6ft. Select the correct size to match the standard of your players. The smaller the target the greater the challenge - these top of the range target goals will have players threading balls through the eye of a needle in no time.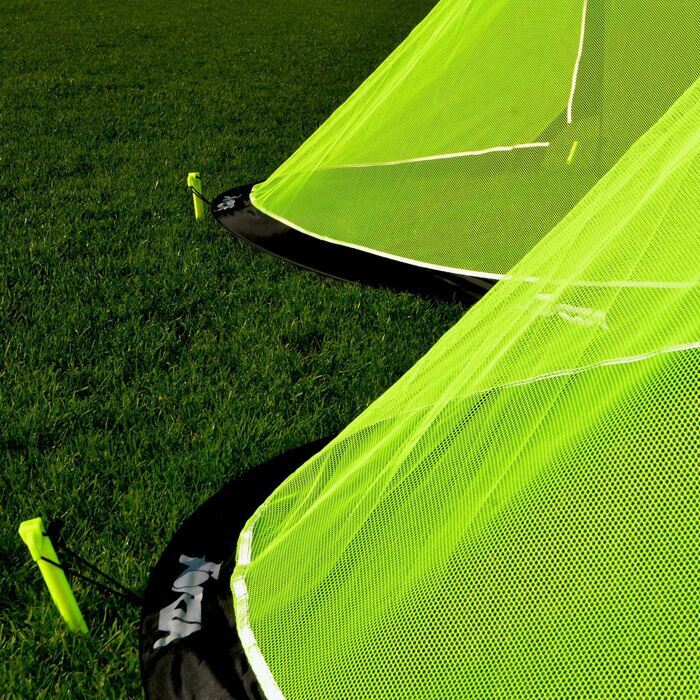 Low-Maintenance Goals Which Pops Up And Collapses In Seconds
There's no better football goal for training when the mood strikes. Perfect for the garden and the training pitch, the mesh goal pops up in seconds, getting the ball rolling immediately. Once the session is over, simply fold it away with a single twist before placing the training goals into the included carry bag.
Reflective Strip To Illuminate Football Training In Dark Conditions
The top quality mesh training goals feature reflective strips around the edges for visibility in all conditions. This innovative strip allows the football goals to be used in the depths of winter as well as night-time sessions, perfect for clubs and coaches who conduct football training sessions all year round.
Description
FORZA Flash Pop-Up Football Goals - Pair Of Mesh Target Goals For Improving Shooting And Passing Accuracy
Improve your passing and shooting skills in a flash with these convenient mesh target football goals. Whether you're engaging in extra training sessions in the back garden, or looking to make a world class acquisition for club training drills, these pop-up football goals will be a true marquee signing. Compact and easy to transport, the FORZA Flash football target goals are a coaches best friend, offering a match-winning blend of low-maintenance and high quality.
Available in three sizes for varying difficulty levels – 2.5ft, 4ft and 6ft
Easy to assemble and collapse, popping up for use and folding with a single twist
Manufactured from lightweight yet durable mesh for long-lasting performance
Comes as a pack of 2 pop-up target football goals for enhanced training sessions
Features a high-vis reflective strip on the goals edge for night and winter training
The FORZA Flash pop-up football goal can be used for a variety of accuracy drills, allowing midfielders and strikers alike to work on long-range passing and low finishing. Coaches can also deploy the top of the range target goal for small sided practice games, putting players through their paces and improving touch and control. The versatile football training goal will get players of all positions and standards up to scratch ahead of the big game.
The goals assemble in the blink of an eye, enhancing the time you spend working on your skills. Similarly, the pop-up football goal collapses with a single twist, allowing you to exhaust your full energy on the pitch without the added job of taking the goal down. The lightweight mesh goals have the requisite durability to handle powerful strikes, while the included 8in anchor pegs will prevent the goals from uprooting upon impact.
Football training is a year-long pursuit, and the hard work needn't grind to a halt during the dark and cold months. This pop-up training football goal doesn't need a winter break due to the highly visible reflective strip. This feature ensures that you'll be able to pick a pass or a long range effort from a mile off during night time and winter sessions, providing high value and consistent usage.
All bases are covered by the lightweight pop-up mesh football goals, coming in three sizes for varying degrees of difficulty. Choose between sizes of 2.5ft, 4ft and 6ft to meet your requirements and progress at your own pace. The target goals come as a pair, allowing for simultaneous drills to enhance time spent on the training ground. Gain the football skills you always wanted with the FORZA Flash Pop-Up Football Goals.
Specifications
FORZA Flash Pop-Up Football Goals
Dimensions:
Goals come in 3 different sizes of 2.5ft, 4ft and 6ft
2.5ft (W 76cm x H 51cm x D 51cm), 4ft (W 121cm x H 81cm x D 81cm), 6ft (W 182cm x H 106cm x D 106cm)
Miscellaneous:
Tough mesh design for durability
Pair of goals suitable for mini training games
Assembles in seconds for immediate use
Easy to fold away with a single twist
Carry bag included as standard
Reflective strip around the edge of each goal provides exceptional visibility at night and in winter
8in anchor pegs included with each goal to secure the goal in place
Delivery Box Sizes - 2.5ft (75cm, 52cm, 52cm), 4ft (122cm, 80cm, 80cm), 6ft (183cm, 105cm, 105cm)
Don't just take our word for it
My son loves them and i love the convenience.
Love it. Used it with my U9 and U12 teams and it such a learning tool for them. Thank you
One order arrived in two shipments, but within several days of each other and on time. No damage, quality product.
Excellent nets for training and accuracy
Good value for money. Grand kids like there new goals.
Want to chat?
We're here on

live chat

right now!
Or via phone or email if you'd prefer...
Buy today, play tomorrow
Order by 9pm for next day delivery
Questions & answers
Ask fellow customers what they think!
Hide Q&As
Questions & Answers
5 questions | 5 answers
What size would you recommend for a 7year old? Thanks
Hello, thank you very much for the enquiry. The Pop-Up goals sizes are suitable for all ages. To make it more challenging, you may want to opt for the smaller sizes however, if they are being used just for fun then it really does not matter!
Kind regards,
Grant
Could these be used on tarmac, or would they blow away thanks
Hi Heather, Thank you for your question. Due to the fact that small pegs are provided they are primarily catered for use on softer surfaces such as grass. However they can still be used on a harder surface like tarmac, I would suggest putting down a weight on the goal to stabilise it and make sure there is no danger of it being blown away. We do sell sandbags which are able to hold down the goal. If you have any further questions please email sales@
networldsports.com
Many thanks, Tom
How high are the 1.8 metre goals?
Hello James, Thank you for your question. The height of the 1.8m (6ft) pop-up goal is 106cm with the depth of the goal being the same. For the 1.2m (4ft) option the height and depth is 81cm and then the 0.8m (2.5ft) option has a height and depth of 51cm. Please free to email sales@
networldsports.com
if you have any further questions. Many thanks, Tom
Can you advise what the materials are in these Forza Flash Pop Up soccer goals ie is the frame made of plastic or PVC or aluminium etc.
Herllo Judy, Thank you for your question. The frame is made with high tensile spring Fiber Glass which makes it easier to fold and allows it to keep its shape. If you have any further questions please do contact me at sales@
networldsports.com
Many thanks, Tom
Could you tell me how high and how wide this product is?
Hello Charlotte, Thank you for your question. Please find the measurement for each size below:
2.5ft (Width 76cm x Height 51cm x Depth 51cm)
4ft (Width 121cm x Height 81cm x Depth 81cm)
6ft (Width 182cm x Height 106cm x Depth 106cm)

Many thanks,
Tom


You may also like
FORZA Mini Target Goal
£29.99
8 x 6 FORZA Steel42 Football Goal
£129.99
3m x 2m FORZA Futsal Football Goal Post
£99.99
3m x 2m FORZA Match Futsal Goal Post
£139.99