24 x 8 FORZA Alu60 Football Goal
24 x 8 FORZA Alu60 Football Goal

24ft x 8ft FORZA Alu60 Football Goal - Premium Quality Regulation Full Size Football Goal
Regulation 24ft x 8ft Full Size Football Goal For Matches And Training
FA and UEFA goal size regulations state that 24ft x 8ft is the official size for professional matches. This versatile and high value football goal brings premium quality to all levels of the beautiful game, from junior to senior 11 v 11 matches, as well as being used in senior coaching sessions.
Portable Yet Highly Durable Freestanding Full Size Football Goal
The versatility of this multi-use football goal is exemplified in its portability, as the hard-wearing goal frames can be picked up by two people and moved between playing areas. With galvanised steel foldaway side frames, the 60mm reinforced aluminium goal can be stored away with ease after use.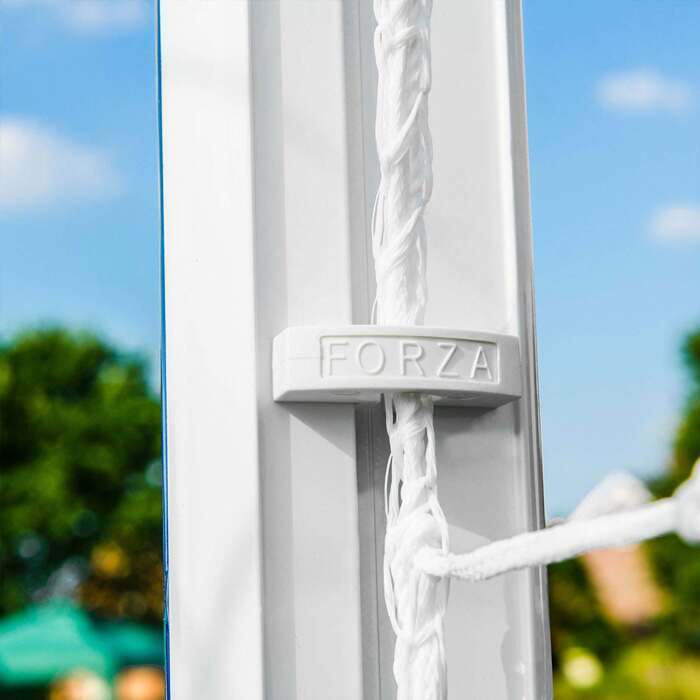 Let The Rain Pour With The Weatherproof Goal Posts And Net
The winter period represents a crucial segment of the season, and with this weatherproof aluminium football goal you can ensure that the points come as thick and fast as the matches. The frame has been powder coated white for premium protection, with an all-weather HDPE goal net included.
Description
Add A Touch Of Class To Matchday With This Regulation Full Size 24 x 8 Aluminium Football Goal
Whether you're duelling for three points on a mud-soaked Sunday League pitch, or climbing your way up the league pyramid, a high quality matchday goal is a sure-fire way of showcasing your ambitions. This full size 24 x 8 football goal has the versatility to be used by both juniors and seniors out on the pitch, as well as by coaches looking to simulate real match conditions during training sessions. Incredibly sturdy, portable and reliable, this internationally recognised full size football goal conforms to FIFA and UEFA regulations, resulting in a professional football goal that is primed for the big time.
Official regulation full size 24ft x 8ft football goal for 11 v 11 matches and senior training sessions
Quality manufacturing with 60mm reinforced aluminium goal posts powder coated in a classic white
The non-permanent freestanding framework retains portability and can be carried by two people
Easy to assemble and store, the 24 x 8 football goal has state-of-the-art galvanised steel foldaway side frames
Come rain or shine this weatherproof goal won't let you down, with an all-weather net included
Having been used by professionals and amateurs alike, this 24 x 8 aluminium football goal is a premium option for any club or coach. Utilising cutting-edge manufacturing for impeccable durability, the goal posts have been made from super strong 60mm reinforced aluminium, capable of lasting the course under the weight of intense pressure and regular use. The tough frame has been powder coated in a traditional white, providing that big match feel while simultaneously protecting the aluminium against corrosion and rust.
Freestanding and self-weighted, the portable football goal doesn't take too much effort to move into position. This feature makes it perfect for clubs and coaches who share playing space with other age groups and teams, taking two peoples exertion to lift and transport the goal. Deceptively lightweight while maintaining a heavy-duty core, this full-size football goal is a premium option, offering long-lasting performance for years to come. The weatherproof football goal can be left outdoors throughout the season, although the foldaway steel side frames facilitate simple storage.
You can never be too safe when two teams are set to lock horns, and with anchor u-pegs included as standard, you can ensure that this goal remains rigid and upright no matter how many shots crash against the crossbar. The all-surface football goal can be deployed on indoor pitches as well as outdoor arenas, providing levels of performance which have previously been confined to the top tiers of the game. With a 3mm thick HDPE goal net and twist and lock clips included, everything you need to kick off the action is included with this 24 x 8 football goal.
Specifications
24 x 8 FORZA Alu60 Football Goal
Dimensions:
FORZA Alu60 goal size (width/height): 24ft x 8ft (7.3m x 2.4m)
2.5mm thick aluminium
24ft x 8ft football goals are recognised as the FIFA / UEFA regulation full-size match goals. These FORZA Alu60s are suitable for both youth (under 15s to under 18s) and adult age group training sessions
FORZA goal top runback: 90cm (35in, approximately 2ft 11in)
FORZA goal bottom depth: 243cm (96in, approximately 8ft)
Materials:
Club spec goal is manufactured from 60mm diameter reinforced aluminium and powder-coated white
Aluminium goal frame provides fantastic protection against rust and corrosion
Galvanised steel foldaway side frames
Quick release galvanised steel detachable back bars
All connecting bolts and nuts are manufactured from the finest quality stainless steel
Each goal includes a heavy duty and weatherproof white 3mm HDPE braided football net plus twist & lock-style net clips for easy attachment
Miscellaneous:
Weight: 25kg (55lbs)
Each individual goal will be delivered in three boxes – Box 1: 2400x280x65mm, Box 2: 1920x295x65mm and Box 3: 445x345x225mm
Goals will be delivered in flat pack form and will require assembly
It is advised that the following tools would be useful to help with assembly: mallet, wrenches, ratchet with sockets
1 year guarantee as standard with all FORZA football goals
Don't just take our word for it
Want to chat?
Contact us here and we'll get back to you as soon as possible.
Buy today, play tomorrow
Order by 9pm for next day delivery
Questions & answers
Ask fellow customers what they think!
Hide Q&As
Questions & Answers
No one has asked a question yet!
You may also like
18.5 x 6.5 FORZA Alu60 Football Goal
£569.99
21 x 7 FORZA Alu60 Football Goal
£699.99
Stop That Ball™ - Ball Stop Net & Post System
£79.99
24 x 8 FORZA Alu110 Socketed Football Goal
£869.99
24 x 8 FORZA Alu110 Freestanding Football Goal
£1,799.99