24 x 8 FORZA Alu110 Freestanding Football Goal
24 x 8 FORZA Alu110 Freestanding Football Goal

24 x 8 Freestanding Football Goal - Regulation Full Size Matchday Football Goal
Revolutionise Your Full Size Goal With Optional Lever Type Wheels
For quick and easy transportation, the optional heavy duty lever type wheels are game-changer. Powered by a CAM mechanism which raises the goal up to 100mm off the ground, the wheels do all the lifting. To avoid sinking into muddy grounds, the wheels have a deep diamond tread.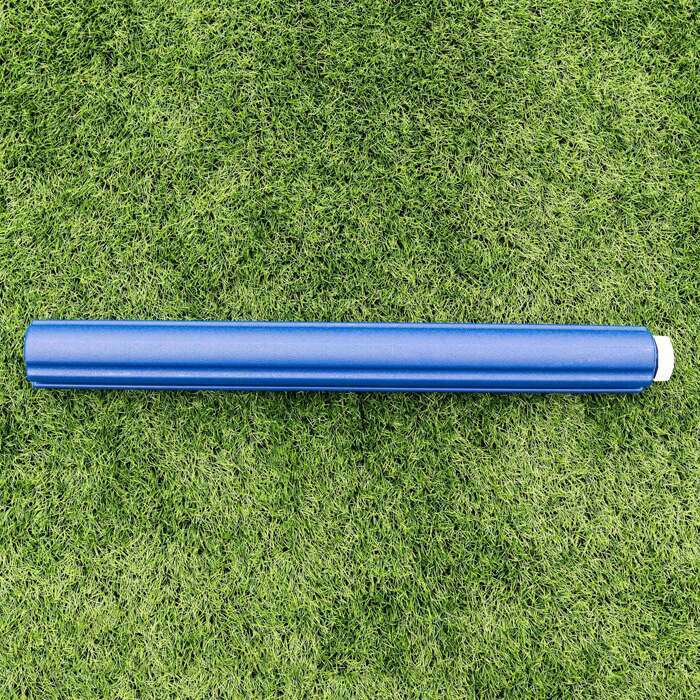 Goal Remains Upright All Match With Internal Counterbalance Weights
Optional internal counterbalance weights can be included for enhanced health and safety measures. The premium goal weights guarantee stability and rigidity, shaped perfectly for insertion into the goal frame. Sand, water, stone or metal can all be used when filling up the internal goal weights.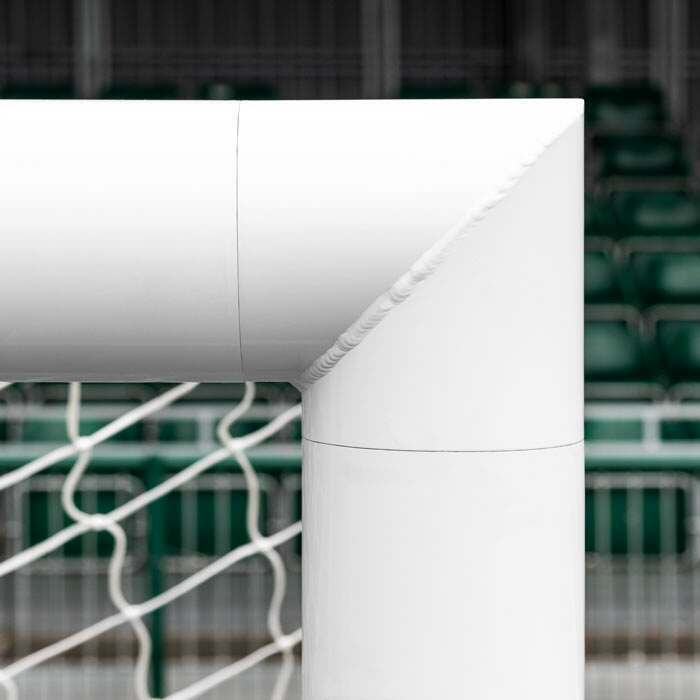 Freestanding Football Goal Is Both Hard-Wearing And Light In Weight
The heavy duty 110mm goal frame is built to last, with the requisite durability and toughness to handle all impacts. Conversely, the posts are deceptively light in weight, providing the option for manual lifting. The freestanding goal frame is fit for purpose on all surfaces, both indoors and outdoors.



Description
Regulation Full Size 24 x 8 Freestanding Aluminium Football Goal Suitable For Matches On All Surfaces
When looking for the best matchday football goal on the market, look no further than this regulation full size 24 x 8 aluminium football goal. Embodying premium manufacturing to provide professional performance, while maintaining a freestanding design which doesn't require permanent fixing, the versatile matchday football goal can be used on multiple surfaces, as well as during coaching sessions for seniors. With FORZA Alu110 goals making their mark as the football goal of choice for Premier League clubs, you can raise your squads standards on the pitch without breaking the bank.
Official regulation full size 24 x 8 freestanding football goal which conforms to FA Match standards
Heavy duty manufacturing with 110mm reinforced aluminium powder coated in a traditional white colour
Freestanding football goal which is highly durable and robust while also maintaining a light in weight design
Add the optional lever type football goal wheels to raise the goal to 100mm off the ground and move it with ease
Internal counterbalance weights can be included to fix the goal to the ground throughout the match
Designed to the highest specifications, the full size matchday football goal has been built to last the course of multiple seasons. The 110mm reinforced aluminium goal posts can handle thunderous collisions with the ball, while the powder coated finish provides ultimate protection against the elements. A professional standard goal without the need for rooting into position, the long-lasting football goal is suitable for use on all surfaces as well as indoor pitches. The heavy duty nature of the frame is belied by its light in weight touch, allowing it to be transported between playing surfaces, perfect for clubs and coaches who require a premium quality portable football goal.
Completing the full size 24 x 8 football goal package is a state-of-the-art 5mm UV treated goal net. The HDPE twine net has toughness to match that of the posts, with the capacity to handle regular matches during all weather conditions. Resistant to rot and frayed edges, the durable goal net will look as good as new no matter how many full force shots are sent crashing into it. With twist and lock net clips included, attaching the goal net for ultimate tautness is a breeze. Give each matchday the big match feel with this premium quality full size 24 x 8 football goal.
Upgrade Your 24 x 8 FORZA Alu110 Freestanding Football Goal
To truly make the most out of the 24 x 8 freestanding football goal, there are two optional extras to choose from. For enhanced mobility, the high-quality lever type goal wheels are on offer, providing simple movement on all surfaces. Including a revolutionary CAM mechanism which lifts the goal up to a mind-blowing 100mm off the ground, there's no need to waste your energy on manual lifting, as the convenient goal wheels do the work for you. The enhanced width of the wheels is met with a deep diamond tread, which stops the wheels from sinking into soft muddy and wet ground.
While the freestanding football goal is self-weighted and stable, further measures can be undertaken with the addition of internal counterbalance weights to your goal. The specially moulded, UV stable weights fit perfectly to the bottom goal frame, slotting into position with ease to prevent unwarranted movement following collisions with the ball. The weights can be filled with water, sand, stone or metal to perform at their peak.
All of the game-changing goals included in the FORZA Alu110 Freestanding Football Goal range aims to provide optimal quality without being weighed down by a hefty price tag. Earning the professional seal of approval, all Alu110 goals conform to worldwide match regulations set by the FA, MLS, A-League, UEFA and FIFA. Similarly, they have all passed independent testing to BS EN 748/8462 safety standards - To view the video of the testing process please click here. If you wish to download a copy of the safety certificate, please click here.
The revolutionary FORZA Alu110 range has been expertly manufactured with strength, power and precision in mind.
Specifications
24 x 8 FORZA Alu110 Freestanding Football Goal
Dimensions:
FORZA Alu110 goal size (width/height) 24ft x 8ft: (7.3m x 2.4m)
24ft x 8ft football goal is the FIFA/UEFA approved internationally recognised full size football goal
FORZA goal top runback: 92 CM (36in, approximately 3ft)
FORZA goal bottom depth: 244 CM (96in, approximately 8ft)
Materials:
Club spec goal is manufactured from 110mm diameter reinforced aluminium and powder-coated white
Aluminium goal frame provides fantastic protection against rust and corrosion
Each goal includes a heavy duty and weatherproof white 5mm HDPE braided football net plus twist & lock-style net clips for easy attachment
Miscellaneous:
Each individual goal will be delivered in 4 boxes – (Wheels/Weights will come individually boxed)
Goals will be delivered in flat pack form and will require assembly
It is advised that the following tools would be useful to help with assembly: mallet, wrenches, ratchet with sockets
1 year guarantee as standard with all FORZA football goals
Please Note: This goal has been independently tested to BS EN 748 safety standards. To view the video please click here.
Goals are independently tested to BS EN 748 safety standards and comply to FA, UEFA and FIFA regulations
Goals conform to FA Match standards. Net World Sports is recognised by the FA as a suitable supplier of football goals
Don't just take our word for it
I purchased one of these goals for my property after careful consideration & I have to say, I have not been disappointed! This goal is fantastic, it has a real professional look and feel to it. After shopping around, I am delighted that I found this product at a really competitive price and I was even more impressed that I could get this delivered on a next day service as it enabled me to have it ready for a BBQ the following weekend, the kids loved it and played in it all day pretending to be their favourite players & I even got involved myself!
Want to chat?
Contact us here and we'll get back to you as soon as possible.
Buy today, play tomorrow
Order by 9pm for next day delivery
Questions & answers
Ask fellow customers what they think!
Hide Q&As
Questions & Answers
3 questions | 3 answers
In the US High School Soccer, they will not allow the sticker on the front of the goal, can the goal be purchased with out them on the front of the goal?
Hi Brian, Thank you for the question. You could take the FORZA logo off the goal as this is only a sticker so can be easily removed however this will remove the goal Warranty from the product. I hope this information is useful. Many thanks, Ryan.
Does the Forza ALU110 meet NFHS, NCAA, and FIFA specifications?
Hi Brian, Thank you for the question. The 24 x 8 FORZA Alu110 Freestanding Football Goal does indeed conform to NFSHA, NCAA and FIFA standards and specifications. They also conform to ASTM 2950-14 and UEFA standards with a performance and safety standard of English FA BS EN safety standards. The goals have been fully tested to ensure top most quality and paramount safety. If you have any questions please do get in touch, Many thanks, Ryan
what does a single or double goal mean?
Hello, thank you very much for the enquiry. A single goal would just be for one goal and a double/pair would be for two.
Many thanks,
Grant
You may also like
24 x 8 FORZA Alu60 Football Goal
£769.99
24 x 8 FORZA Alu110 Socketed Football Goal
£869.99
21 x 7 FORZA Alu110 Socketed Football Goal
£829.99
21 x 7 FORZA Alu110 Freestanding Football Goal
£1,699.99