FORZA 6ft Spring Loaded Slalom Training Poles [34mm]
FORZA 6ft Spring Loaded Slalom Training Poles [34mm]

Develop Key Physical Attributes With Spring-Back Speed And Agility Football Training Poles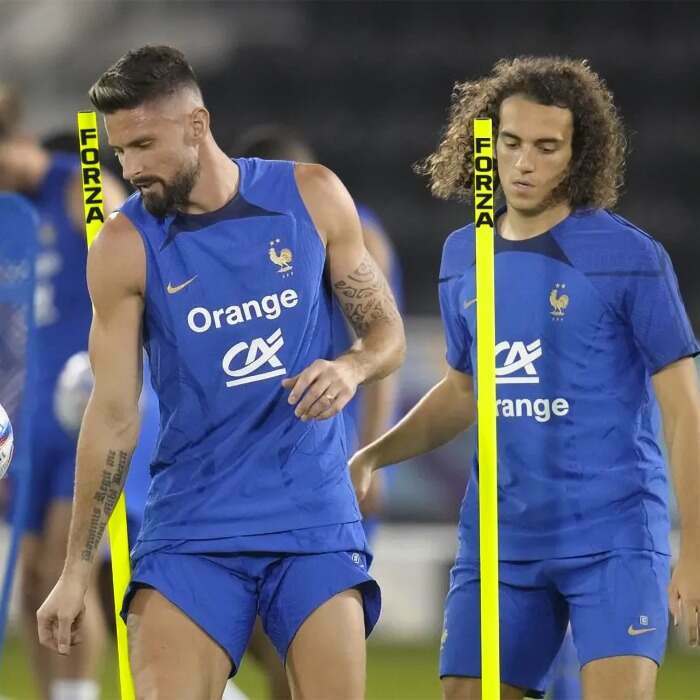 Spring-Back Mechanism For Enhanced Safety And Stability
These innovative football slalom poles have been designed with a professional spring-back mechanism. The spring-loaded slalom poles won't upturn when they are struck, preventing injuries by springing back to its original position for the duration of the training drills. This keeps the pole incredibly rigid and stable.
Plastic Speed And Agility Poles For Long-Lasting Performance
The coaching poles for speed and agility have been manufactured from 34mm diameter shatterproof plastic, ensuring that the high value poles can be used for countless sessions. This quality design makes the fitness training equipment perfect for coaches who take multiple sessions over the course of a season.
Poles With Built-In Steel Spike For Insertion To Soft Playing Surfaces
Coming with an integrated strong steel spike, the easy to use agility poles have been designed to be rooted into grass pitches. The spike enhances stability, keeping the poles upright for the entire training session. Taking mere seconds to set-up, the speed and agility poles are a football club essential.
Description
Fluorescent Yellow Shatterproof Plastic 6ft Tall Speed And Agility Training Poles For Football
Developing lightning speed and razor-sharp reflexes will place everyone from marauding wingers to full back a step ahead of the opposition. The 6ft slalom poles are a high-quality football training tool, allowing coaches to zero in on footwork, short bursts of speed and quick changes of direction. Perfect for speed and agility training drills, the slalom poles for football are the best way to learn the key off-ball attributes which can make all the difference on the matchday pitch.
Spring-loaded slalom poles which return to position when hit for convenience and enhanced safety
Training poles made from 34mm thick shatterproof plastic which is highly durable and long-lasting
Features an integrated steel spike on the base which allows the poles to be inserted into grass with ease
6ft tall speed poles for first team players available for purchase in packs of 8 and 16 as standard
Fluorescent yellow coloured agility poles which are suitable for training use during the winter and night-time
Having been manufactured form 34mm diameter shatterproof plastic, these premium quality speed training poles are incredibly long-lasting, representing a high value acquisition for coaches of all standards. Designed with an innovative spring-back mechanism, the football training poles simple return to their position when felled or struck, eliminating the need for continuous manual resetting as well as improving the safety of your fitness training drills. The top of the range football practice poles are essential training equipment for any coach.
Standing at a height of 6ft, the senior speed and agility slalom poles are specifically sized for use by first team coaches. Suitable for use in poor visibility and winter training, the fluorescent yellow speed training poles are incredibly vivid and bright, providing an eye-catching addition to match preparations. Available in sets of 8 or 16, the innovative speed and agility spring-back poles can also be used during goalkeeper training drills, replicating deflected shots when lined up in front of the goal.
Specifications
Height:
Pole height: 5.6ft | 172cm
Quantity:
Spring loaded slalom poles are available in sets of 8 or 16
Miscellaneous:
Highly visible yellow colour
Slalom poles manufactured from 34mm diameter shatterproof plastic
Superb spring back feature with flexible plastic cover
Each slalom pole has a stainless steel spike at the bottom to easily use on soft surfaces such as grass
If you wish to use these slalom poles on astroturf or indoors, it is advised to use a rubber slalom pole base (sold separately by Net World Sports)
Don't just take our word for it
I'm not sure if it's the way the poles are designed or if it was due to shipping but it appears that there is some add discoloration at the bottom of the pole where it attaches to the spring.
Excellent product, perfect for agility training
Excellent service, and delvery
Want to chat?
Contact us here and we'll get back to you as soon as possible.
Buy today, play tomorrow
Order by 9pm for next day delivery
Questions & answers
Ask fellow customers what they think!
Hide Q&As
Questions & Answers
No one has asked a question yet!
You may also like
FORZA Lunar Match Footballs
£12.99
FORZA Resistance Speed Chute
£8.99
FORZA Pro Football Training Bibs/Vests [5 - 15 Packs]
£6.99
FORZA Speed & Agility Training Ladder
£5.99