RapidFire Football Rebound Net
RapidFire Football Rebound Net

Single Sided RapidFire Football Rebound Net For Individual Skill Training Drills
Adjustable Football Rebounder Net With Varying Ball Delivery Angles
Thanks to the innovative adjustable angle function of this football rebound net, you can tailor the trajectory of the ball to match the requirements of the specific skill that you're training. Whether you want to deliver the ball high, at chest height or low, this versatile rebound trainer is perfect piece of training equipment.
Easy To Assemble Rebound Net Which Folds Away For Simple Storage
The pop-up football rebounder will be fully set-up in a matter of seconds, offering convenience to match its impeccable levels of quality. There's no cumbersome disassembly process to go through either. as the lightweight frame of the portable rebound net simply folds away after use, making storage incredibly quick and easy.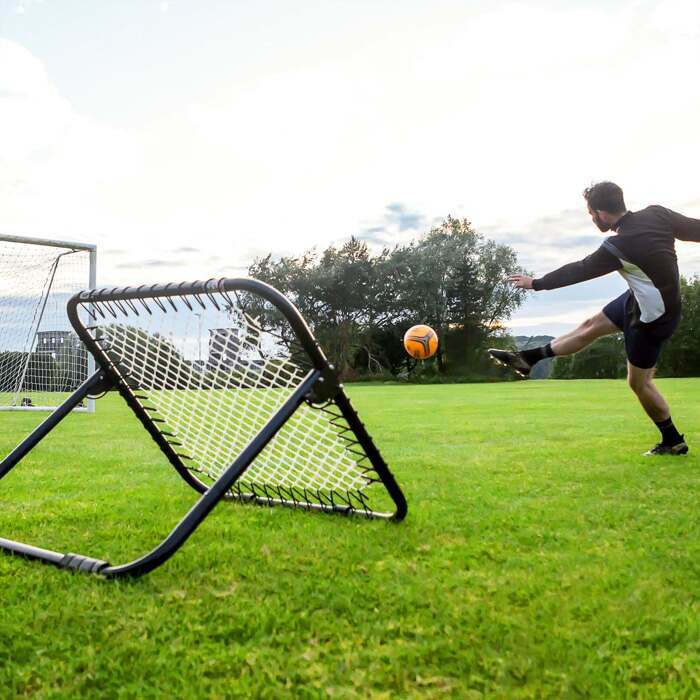 Multi-Skill Single Sided Football Rebounder Net For Solo Practice
Designed with a single side of spring-loaded, taut rebound net, this bounce back trainer is perfect for individuals looking to put in the extra training time at home working on multiple skills as well as coaches adding an innovative twist to their sessions. A double-sided variation is also available for selection from the drop-down.
Description
RapidFire Football Rebound Net – Single Sided Rebounder For Various Football Training Drills
The ultimate coaching tool for ball control, passing and volleying, the RapidFire Football Rebound Net is the best way to work on multiple skills with one piece of training equipment. The rebounder comes as either a single or double-sided bounce back net, allowing for solo practice as well as simultaneous drills during club sessions. From defensive headers to goalkeeper catching practice, this versatile football training rebounders will improve the technical ability of players of all standards.
RapidFire Rebound Net available for purchase as either a single sided or double-sided rebounder
Adjustable football rebounder net provides varying ball trajectories for multiple skills and enhanced difficulty
1m x 1m rebounder which is incredibly sturdy and robust with a wide spring loaded rebound net
Incredibly lightweight yet heavy-duty frame which folds away after use for portability and ease of storage
Multi-skill rebounder perfect for working on a multitude of essential techniques including control, passing, shooting and heading
This single sided football rebounder net is the best way for individuals to develop their skills. Suitable for use at home as well as during coaching sessions, the rebound training net is incredibly versatile, representing a convenient method of improving technique by facilitating quick and easy training. With dimensions of 1m x 1m, the premium football rebounder provides realistic bounce and challenging practice with its extra wide and firm spring-loaded rebound area. An essential piece of training equipment for any footballer or coach, the single sided RapidFire rebound net is guaranteed to enhance solo football practice.
Designed to provide training for multiple skills and techniques, the innovative rebounder for football features varying angles. The adjustable rebound net allows you to alter the trajectory of ball delivery from high to low, dependant on which aspect of your game you wish to work on. Develop bullet headers and slick ball control all in one go with the variable net positions afforded by this adjustable football rebounder. Lightweight and portable, the easy to assemble rebound training training net simply folds away once the training is over, making carrying and storing the coaching aid a low-maintenance task.
PLEASE NOTE - This RapdFire Football Rebound Net is also available in a double-sided option for dual training drills with teammates. Please select your preferred option from the drop-down.
Specifications
Single Sided RapidFire Football Rebound Net Specifications
Size
Single sided rebounder
Dimensions of 1m x 1m
Design
Sturdy & robust spring loaded rebounder with a wide rebound area
Adjustable angle option for varying of ball trajectory
Frame folds away for easy storage
PLEASE NOTE - Also available as a double-sided rebounder to allow for simultaneous trajectory variations and practicing more football skills at once
Don't just take our word for it
The product is excellent although a little tricky to put together. My son has been using it every day since he got it.
bigger than we thought, well made product
Excellent product and service. Brill present.
Want to chat?
We're here on

live chat

right now!
Or via phone or email if you'd prefer...
Questions & answers
Ask fellow customers what they think!
Hide Q&As
Questions & Answers
5 questions | 5 answers
Hi, Does the double sided rebound net have an adjustable angle option? Many thanks
Hi JCB, thank you very much for the enquiry. Unfortunately, unlike the single sided option, the double sided rebounder does not have an option to adjust the angle.
Kind regards,
Grant
Can this revounder withstand powerful shots from a football or sliotar
Hi Clive, Thank you for your question. With whatever power is used and any sort of ball used I can assure you that the rebounder will be able to cope. The more power you put into a shot or a throw the quicker the ball will come back so it works perfect for all skill levels. If you have any further questions please do let me know. Many thanks, Tom
Hi. Do you by any chance sell a bag for this to be stored and carried in? Thanks.
Hello Annie, Thank you for your question. Unfortunately we do not currently sell a storage bag for the RapidFire rebound net, as it is already a portable product we find that a storage bag would not be needed. If you have any questions please email sales@
networldsports.com
Many thanks, Tom
I was just wondering does your rapid fire rebound net come with the net already fixed onto the metal surround.
Hello Chris, Thank you for your question. The package is delivered with rebound net already attached to the framework, all that is left to do is attach the brackets and the last remaining pieces. If you are purchasing the double sided it is already assembled and you simply have to take it out of the box. Please fell free to email sales@
networldsports.com
if you have any further questions. Many thanks, Tom
Hi is it hard to put together as I will be doing it thanks.
Hello, thank you very much for the enquiry. This product is very simple to set up and you are provided with everything you need to do so! It comes with very simple step by step instructions which are very easy to follow to allow you to have this up and running in no time!
Many thanks,
Grant
You may also like
FORZA 6ft Spring Loaded Slalom Training Poles [34mm]
£68.99
6 x 4 FORZA Alu60 Football Goal
£160.99
FORZA Speed Training Hurdles [6 Pack]
£18.99
Football Goal Target Sheets
£19.99
Recently Viewed
12 x 6 FORZA Football Goal Post
£88.99
48mm Football Ball Stop Netting [Standard Size]
£0.99
StadiumMax Wheel Transfer Line Marker - For Sports Pitches
£287.99
Football Goal Target Sheets
£19.99
3m x 2m FORZA Alu60 Football Futsal Goal
£344.99