12 x 6 FORZA Match Football Goal Post
12 x 6 FORZA Match Football Goal Post
12 x 6 Football Goal Post And Net - The Best Football Goal For Juniors Under 11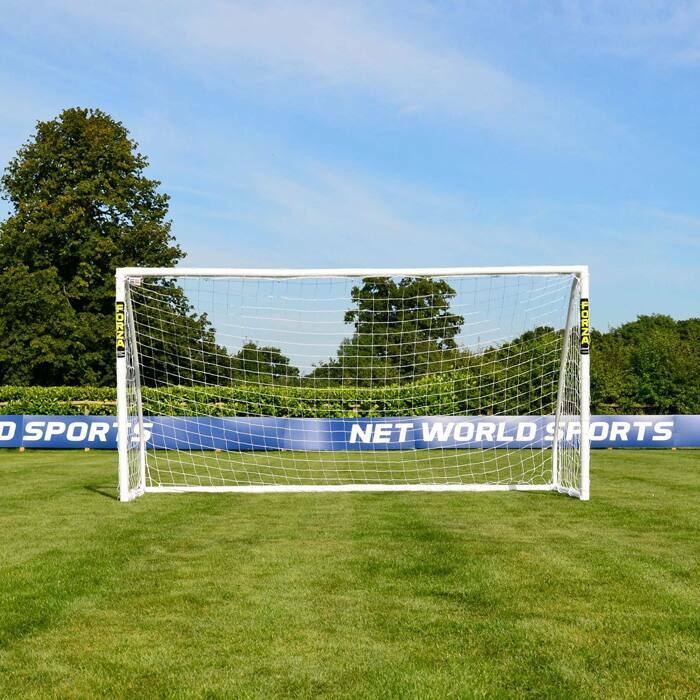 12ft x 6ft Junior Matchday Goals For Season-Long Performance
With dimensions of 12ft x 6ft, this football goal is the perfect size for use by under 11's. This particular model is suitable as a high quality matchday and tournament goal, with the weatherproof PVC goal frame providing consistent use for the entirety of the season.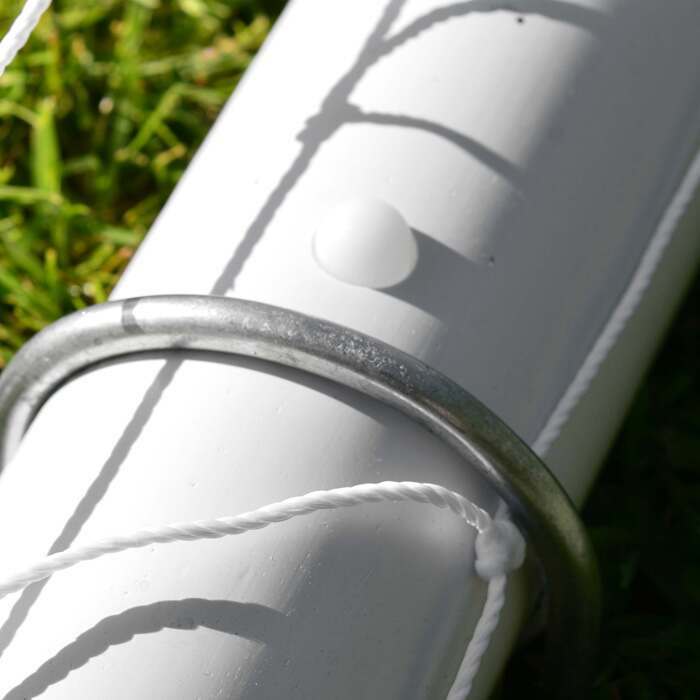 Top Runback And Essential Locking System For Enhanced Stability
When it comes to stability, the FORZA Match Football Goals are second to none. Featuring the essential locking system, the posts lock together to counteract the impact of collisions with the ball. Also, the enhanced back profile of the goal provides optimum stability throughout use.
Quick And Easy Goal Assembly Which Won't Leave You Confused
It takes the length of an average portion of injury time to set this junior football goal up. Ready for action in minutes, the PVC goal posts connect with ease, while the included net clips make attaching the net a formality. There's no need to disassemble the weather-resistant goal post-use.
Description
12 x 6 PVC Football Goal For Juniors – Under 11's Football Goal For Matchdays And Tournaments
Junior footballers take to the pitch on a weekly basis with dreams of scoring that crucial goal which clinches all three points. Featuring the high quality manufacturing which mirrors their enthusiasm for the sport, the 12 x 6 FORZA Match Football Goal is worthy of the best efforts of juniors under the age of 11. As well as adding a touch of class to junior matches and tournaments, the versatile PVC football goal can also be used during coaching sessions and back garden training drills.
12ft x 6ft football goal designed for match and tournament use by under 11 teams
High strength PVC goal frames expertly designed for long-lasting performance
Stability is increased by the essential locking system and enhanced back profile
The football goal posts and nets become fully assembled in a matter of minutes
Top of the range 2mm UV stabilised HDPE football goal net included in a classic white
Football goals go through a lot over the course of a typical match. From thunderous volleys crashing against the crossbar, to heavy downpours when the heavens open, you need a football goal that's built to last. Made from weatherproof and highly durable PVC, this 12 x 6 football goal for juniors can handle the rigmarole of a full season and come out the other end looking as good as new. Its all-weather design allows it to be left fully assembled outdoors while remaining pristine ready for the next matchday.
Eliminate the tedium of difficult goal assemblies with the quick and easy setting up process of this PVC junior football goal. Incredibly lightweight and easy to manoeuvre, this low-maintenance football goal connects in minutes, getting the match underway impressively quick. For enhanced stability, the essential locking system keeps the posts securely protected, absorbing powerful impact. The top runback further boosts the stability of the junior football goal, solidifying the reliability of your goal throughout the match.
There's no need to shop around for a goal net to accompany your posts, as a premium quality HDPE football goal net is included as standard. The UV stabilised goal net won't be impacted by the elements, allowing your under 11 sides to hear that familiar ripple all season long. Net clips and u-pegs are also included to complete the package and keep the goal net firm and securely connected from the first whistle to the last. Bring professionalism to junior matches and tournaments this 12ft x 6ft PVC football goal.
12 x 6 FORZA Match Football Goal - Dimensions
FORZA 12 x 6 Match Football Goal Dimensions
Width
12 FT / 3.6 m
Height
6 FT / 1.8 m
Depth
4.9 FT / 1.5 m
---
Specifications
12 x 6 FORZA Match Football Goal
Dimensions
12ft x 6ft (3.66m x 1.82m)
Bottom depth - 4ft (1.22m)
Material
Made from uPVC with enhanced back profile
2mm UV stabilised HDPE net supplied with every goal
Net has reinforced edges
Miscellaneous
This goal can be left outdoors all year round
Goal can be moved easily and taken down to be easily transported
Goal comes with a 1 year warranty
Don't just take our word for it
Very good quality goal with good quality components and easy to assemble
So far so good. Only used for a week.
Easy to assemble and looks good.
good communication, good product
Products are as pictured & of excellent quality.
Want to chat?
We're here on

live chat

right now!
Or via phone or email if you'd prefer...
Buy today, play tomorrow
Order by 9pm for next day delivery
Questions & answers
Ask fellow customers what they think!
Hide Q&As
Questions & Answers
4 questions | 4 answers
does this soccer goals post come with netting or is it just he goal post
Hi Spencer, Thank you for your question. The netting does come included with all of the goal posts we have available on our website. Also included for this goal post are the net clips and ground anchors to secure the goal into the ground for the best stability possible. If you have any further questions please email sales@
networldsports.com
Many thanks, Tom
Hi Jose, Thank you for your question. The diameter of each of the posts is 2.7 inches (68mm), with the diameter being this thick you have the durability to withstand powerful shots from all different types of skill levels. If you have any further questions please email sales@
networldsports.com
Many thanks, Tom
Had PVC goals in the past and they sag over time and lose shape - is your goal guaranteed to stay straight?
Hello James, Thank you for your question. Our goals are designed to last for multiple years and in different environments, our goals have a one year warranty so in the very unlikely scenario that the goals lose shapes or parts get damaged they can get replaced free of charge. Many thanks, Tom
Is the Forza 12 x 6 Football Match Goalpost suitable for a 15 year old boy ?
Hello Tom, Thank you for your question. The 12 x 6 size is mainly catered up to the age of around 12-13 years old. For the age of 15 years old I would recommend the 16 x 7 size which is available in PVC, Steel and Aluminium material. Many thanks, Tom
You may also like
12 x 6 FORZA Steel42 Football Goal
£189.99
12 x 6 FORZA Alu60 Football Goal
£369.99
Stop That Ball™ - Ball Stop Net & Post System
£79.99
12 x 6 FORZA Alu110 Freestanding Football Goal
£1,199.99
12 x 6 FORZA Alu110 Socketed Football Goal
£589.99