16 x 7 FORZA Alu60 Football Goal
16 x 7 FORZA Alu60 Football Goal

16ft x 7ft FORZA Alu60 Football Goal - The Best Junior 9-A-Side Matchday Goal Available
Versatile Football Goal For Clubs With Both Youth And First Teams
With dimensions of 16ft x 7ft, this premium quality football goal will leave a lasting impression throughout the ranks of your club. Suitable for 9 v 9 matches undertaken by under 13's as well as senior coaching sessions, this professional football goal is perfectly capable of pulling double duty.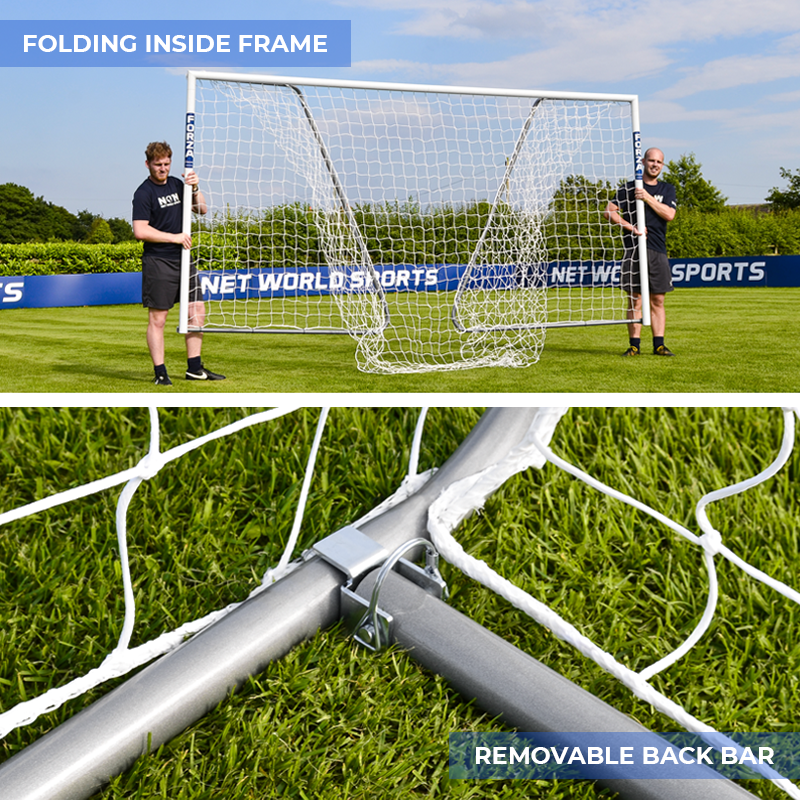 Aluminium Goal Posts Which Are Both Durable And Easy To Maneuver
No corners have been cut in the professional manufacturing of the aluminium football goal posts, providing premier levels of durability while maintaining a delicate, light touch for portability. The 60mm reinforced aluminium frame can be carried by two people, with foldaway side frames for convenience.
Play Football All Year Long With This Weatherproof Goal
Having been powder coated in a sleek and classy white, the goal posts provide phenomenal protection against rust and corrosion caused by the weather when left outside. Similarly, the included 3mm HDPE white goal net won't become damaged or frayed no matter the amount of pressure it's put under.
Description
Enhance Junior 9-A-Side Matchdays And Senior Training Sessions With This Versatile 16 x 7 Alu60 Football Goal
At 16 x 7, this professional quality football goal is the perfect size for junior 9-a-side matchday. This form of football, typically played by under 13's, prepares youngsters for the real thing, and as such requires specific equipment. Harnessing world-class manufacturing, resulting in a game-changing goal, this the best aluminium 9-a-side football goal on the market. Loaded with versatility, it is equally suitable for use as a smaller sized target football goal used by coaches during senior training sessions.
16ft x 7ft football goal designed specifically for 9-a-side matches and senior club coaching sessions
The framework is made from 60mm reinforced aluminium, powder coated white for rust-resistance
Freestanding and lightweight goal frame which can be moved with ease by a pair of people
Includes sturdy galvanised steel foldaway side frames for space-saving storage purposes
Weatherproof frame and 3mm HDPE braided twine net which can be used indoors and outdoors
Designed to bring professionalism to junior 9-a-side matches and coaching sessions, the highly durable football goal will solidify its position at the epicentre of your set up for years to come. Manufactured from 60mm reinforced aluminium, the sturdy posts can weather a storm of powerful strikes as well as inclement weather. Fully weatherproof and resistant to rust or corrosion, the convenient aluminium football goal can be left set up outdoors throughout the year without compromising its pristine quality.
Perfect for both 9-a-side matches and senior training sessions, the freestanding football goal can be transported between playing venues without much effort. The lightweight feel of the framework belies their robust manufacturing, taking the endeavour of two people to shift the position of the aluminium football goal. Ideal for coaches and clubs who play the beautiful game at numerous locations, the portable football goal is suitable for use on all surfaces, including indoor hard pitches and artificial surfaces such as 3G, 4G and AstroTurf.
Ensuring that all necessary health and safety measures have been undertaken is important before engaging in junior football matches and training sessions. Having breezed through stringent independent safety testing to BS EN 8462 standards, the goal won't sag or upturn during use, guaranteeing security and safety. As well as premium quality 16 x 7 football goal posts, the package is completed by a 3mm HDPE braided twine goal net, which remains securely fastened to the goal thanks to the included twist and pull net clips.
Specifications
16 x 7 FORZA Alu60 Football Goal
Dimensions:
FORZA Alu60 goal size (width/height): 16ft x 7ft (4.9m x 2.1m)
2.5mm thick aluminium
A 16ft x 7ft football goal is the officially recognised size for junior 9-a-side matches and senior training sessions
FORZA goal top runback: 90cm (35in, approximately 2ft 11in)
FORZA goal bottom depth: 195cm (77in, approximately 6ft 5in)
Materials:
Club spec goal is manufactured from 60mm diameter reinforced aluminium and powder-coated white
Aluminium goal frame provides fantastic protection against rust and corrosion
Galvanised steel foldaway side frames
Quick release galvanised steel detachable back bars
Each goal includes a heavy duty and weatherproof white 3mm HDPE braided football net plus twist & lock-style net clips for easy attachment
Miscellaneous:
Weight: 22kg (48lbs)
Each individual goal will be delivered in three boxes – Box 1: 2380x220x65mm, Box 2: 2080x295x65mm and Box 3: 445x285x195mm
Goals will be delivered in flat pack form and will require assembly
It is advised that the following tools would be useful to help with assembly: mallet, wrenches, ratchet with sockets
1 year guarantee as standard with all FORZA football goals
Conforms to British Standards and Football Association safety regulations
Independently tested to BS EN 8462 Safety Standards [Watch The Video Here]
Goals conform to FA Match standards. Net World Sports is recognised by the FA as a suitable supplier of football goals
Don't just take our word for it
Great goals that are exactly as described, you pay more but you get real quality, very solid goal that a truly fit for purpose.
Relatively easy to put together, although the instructions can be a little misleading and are certainly not idiot proof, maybe because they cover different models. I found my self with additional bolts left that should have been used but instruction only shows using 4 in stead of 6. So had to dismantle and reassemble.

Despite the instructions I would recommend this product.
Great quality and good size!
Want to chat?
Contact us here and we'll get back to you as soon as possible.
Buy today, play tomorrow
Order by 9pm for next day delivery
Questions & answers
Ask fellow customers what they think!
Hide Q&As
Questions & Answers
3 questions | 3 answers
Will these goals support the weight of a 15-year-old boy swinging from them?
Hello Ryan, thank you very much for the question. Unfortunately, this isn't something we can guarantee I'm afraid as they're not really meant to be swung on. They do conform and have been independently tested to BS EN 8462 safety standards so they can withstand a considerable amount of pressure.
Many thanks,
Grant
does the crossbar come as one piece?
Hello Seamus, Thank you for your question. I can confirm that the crossbar is in two separate pieces with a connector part put in between the two pieces. These are then screwed in from the back of the frame work. If you do have any further questions please do let me know. Many thanks, Tom
What is the weight of the assembled goal?
Hello, thank you very much for the enquiry. The weight of this specific goal is 22kg (48lbs).
Many thanks,
Grant
You may also like
16 x 4 FORZA Alu60 Football Goal
£359.99
18.5 x 6.5 FORZA Alu60 Football Goal
£569.99
Stop That Ball™ - Ball Stop Net & Post System
£79.99
16 x 7 FORZA Alu110 Socketed Football Goal
£699.99
16 x 7 FORZA Alu110 Freestanding Football Goal
£1,499.99