16 x 4 FORZA Alu110 Freestanding Football Goal
16 x 4 FORZA Alu110 Freestanding Football Goal

16 x 4 Alu110 Freestanding Football Goal - Perfectly Sized For Senior 5-A-Side Matches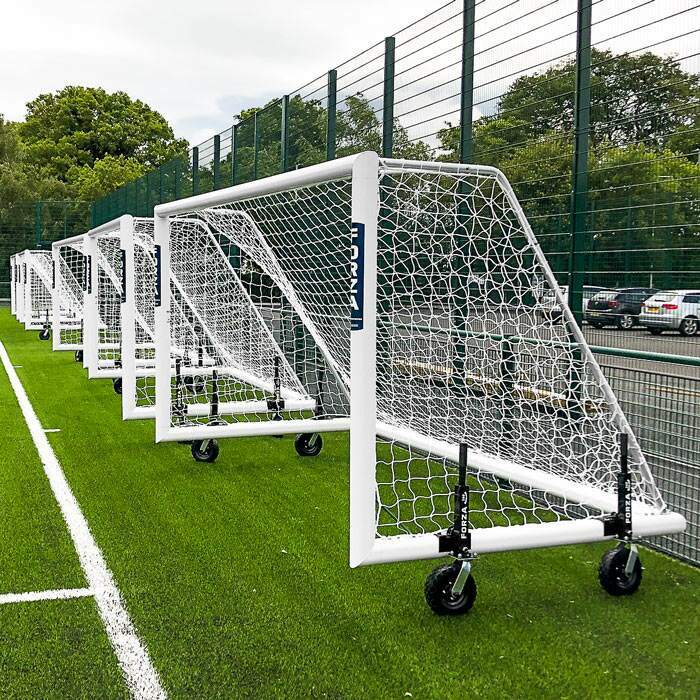 Add Heavy Duty Lever Type Goal Wheels For High Levels Of Mobility
Designed to do the manual lifting so you don't have to, the optional lever type wheels feature a CAM mechanism which raise the goal up to a ground-breaking 100mm. The puncture-proof wheels are extra wide with a deep diamond tread which allows them to be used on all surfaces with ease.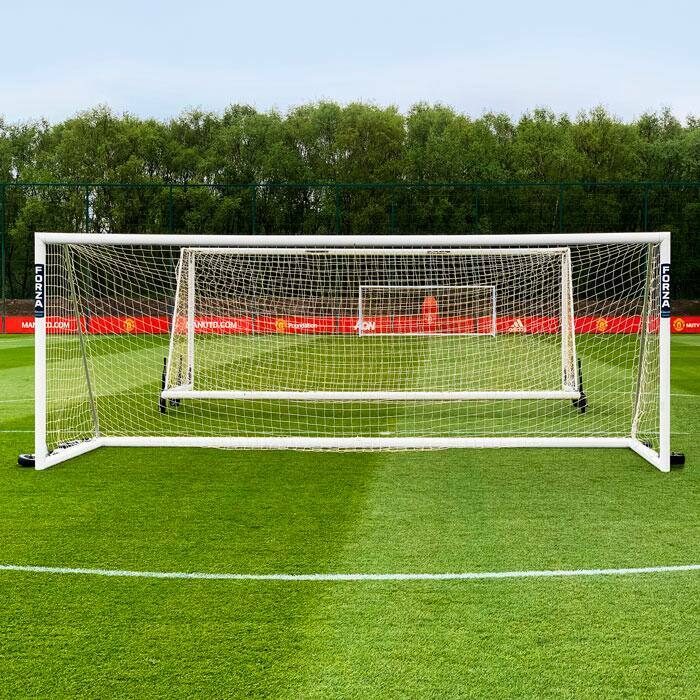 Moulded Optional Internal Counterbalance Weights For Safety
To enhance the levels of safety and stability associated with your 5-a-side goal, the optional counterbalance weights have been expertly manufactured to fit securely into the profile of your goal. Fill the weights with water, sand, stone or metal to keep the 16 x 4 football goal rooted firmly in place.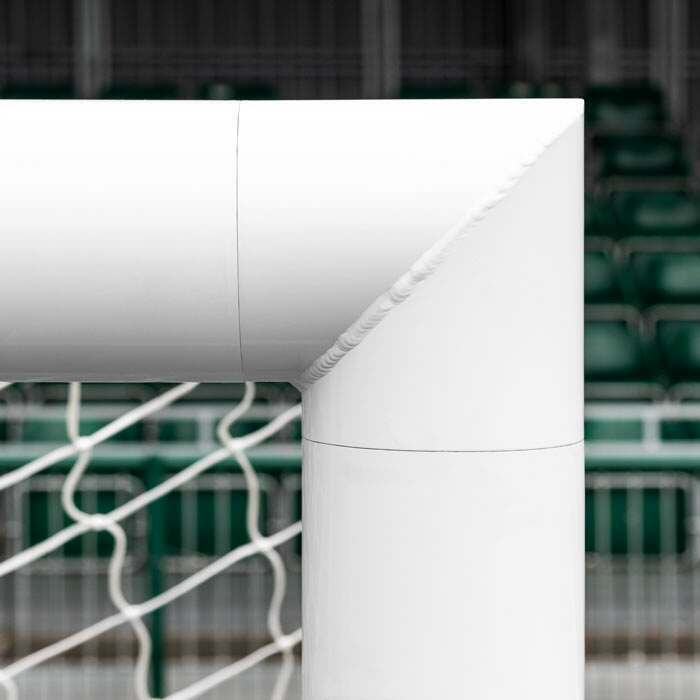 Heavy Duty Yet Light In Weight 16 x 4 Alu110 Freestanding Football Goal
Manufactured from premium 110mm reinforced aluminium for high levels of durability, the tough football goal is equally light in weight as it is robust. The powder coated frames are freestanding and therefore don't require fixing into the ground, allowing them to be moved in between playing surfaces.



Description
Official Regulation Sized 16 x 4 Aluminium 5-A-Side Football Goal For Indoor And Outdoor Use By Senior Sides
At 16ft x 4ft, this top of the range aluminium football goal is a regulation sized senior 5-a-side goal suitable for official matches and tournaments. Its freestanding design allows the versatile 16 x 4 football goal to perform on both indoor and outdoor surfaces, providing versatility for use by sports centres, clubs and coaches. Equally adept as a 5-a-side training goal, the adaptable football goal will revolutionise the way that 5-a-side is played, utilising state-of-the-art manufacturing to deliver the most durable 16 x 4 aluminium football goal on the market.
Regulation sized 16 x 4 senior 5-a-side football goal which can be used on both indoor and outdoor pitches
Tough goal frame made from premium powder coated and scratch resistant 110mm reinforced aluminium
Heavy duty freestanding football goal which is simultaneously robust yet light in weight for portability
Optional heavy duty lever type wheels designed to lift the goal 100mm off the ground for ease of movement
There is also the option to add high quality internal counterbalance weights to prevent the goal overturning
Designed to provide the upmost strength and longevity to 5-a-side football matches, the premium 110mm fully welded aluminium framework has been built to withstand regular call ups to the 5-a-side pitch. Finished in a sleek and weather-resistant white powder coating, the all-weather football goal can take centre stage on indoor 5-a-side pitches as well as on all outdoor surfaces. Due to its unsurpassable levels of weather-resistance, the high-strength 16 x 4 football goal can be left outdoors without the need for storage, as its premium manufacturing can brave the elements and come out unscathed.
FORZA Alu110 goals are the football goal of choice for Premier League clubs due to the premium levels of manufacturing visible in this heavy duty yet light in weight 5-a-side football goal. As well as top of the range aluminium goal posts, this 16 x 4 senior 5-a-side football goal also includes a professional standard 5mm braided HDPE goal net, which is guaranteed to remain as good as new throughout the course of the season. Expertly designed to provide a professional fit to the frame, the twine netting lines up alongside twist and lock net clips for attachment you can trust.
Upgrade your 16 x 4 FORZA Alu110 Freestanding Football Goal
Take your 16 x 4 football goal for 5-a-side matches to the highest level by adding our optional extras. The first extra on offer is our premium quality lever type football goal wheels. Bolstering a state-of-the-art CAM mechanism which raises the goal up to 100mm off the ground, there's no need for tedious manual lifting when moving the goal around. Heavy duty in design, the extra wide goal wheels feature a deep diamond tread which allows them to be used in all weather conditions without sinking into muddy and wet grounds.
The second extra available for selection is the internal counterbalance weights. These weights enhance the stability of the 16 x4 aluminium football goal, slotting into the goal frame and keeping the freestanding goal upright under the weight of anything which comes its way. Easy to use, the extra thick HDPP moulded weights require filling with water, sand, metal or stone before being placed into the goal, ensuring that all necessary safety measures are carried out before the 5-a-side match kicks off.
The state-of-the-art FORZA Alu110 Freestanding Football Goal range is the jewel in the FORZA crown, bringing professional quality without the price tag to a variety of age groups. Given the professional seal of approval, all Alu110 goals conform to worldwide match regulations set by the FA, MLS, A-League, UEFA and FIFA. Similarly, they have all passed independent testing to BS EN 748/8462 safety standards - To view the video of the testing process please click here. If you wish to download a copy of the safety certificate, please click here.
The game-changing FORZA Alu110 range has been expertly designed with strength, power and precision in mind.
Specifications
16 x 4 FORZA Alu110 Freestanding Football Goal
Dimensions:
FORZA Alu110 goal size (width x height): 16ft x 4ft (4.9m x 1.2m)
Goal bottom depth: 121cm (48in, approximately 4ft)
Goal top runback: 46cm (18in, approximately 1.5ft)
Materials:
Goal frame is manufactured from heavy duty 100mm x 110mm elliptical aluminium with reinforced ribs inside for additional strength
Fully welded corner joints throughout ensures maximum strength and durability
Internal connector joints add strength and long-lasting reliability
Tough, scratch resistant powder coated paint finish in white to protect goal from rust and corrosion
Heavy duty diagonal net supports bars, made from extra thick tubular aluminium with support stay for extra bracing
Solid steel support plates are precision cut via laser for an exact fit and are zinc plated to protect against corrosion for long life
High tensile stainless nuts, bolts and washers throughout
World Cup quality goal nets are specially tailored to overall goalpost shape for best fit
Goal nets are constructed from a 5mm OD braided HDPE twine with 100mm knotted mesh size in white
Twist & lock-style safety net clips securely attach goal nets into the goal's internal channel.
Both the goals nets and safety net clips are UV treated to protect against sunlight
Entire goal frame, net and all fixtures/fittings are weather resistant
Miscellaneous
Goals require assembly as they are delivered in flat pack form
For more information on the setup and tools required, please click here to download our assembly instructions 1 year guarantee as standard with all FORZA Football goals
Upgrading your goal
Our revolutionary lever type puncture proof wheels will optimise the mobility of the goals
Lever type wheels can lift the goal up to 100mm off the ground to avoid frame catching the ground when moving
Cam plates are precision cut via laser to ensure smooth flowing operation system
The micro-cellular polyurethane tyre on polypropylene wheel is puncture proof & UV stable
Each wheel measures 260mm in diameter x 85mm wide
The extra wide tyres with deep diamond patterned tread stop the wheels from sinking in wet muddy ground, optimising mobility
Wheels have greased internal bearings for smooth rotational operation
Heavy duty extra thick steel brackets for long lasting reliability
All steelwork is zinc plate treated to protect against corrosion for long life
Complete with high tensile stainless nuts, bolts and washers to bolt wheel brackets to the goal's internal channel
For added health and safety, internal counterbalance weights can be added inside the goal to prevent overturning.
The internal counterbalance weights simply slide inside the goal's 100mm x 110mm bottom framework
Manufactured from extra thick, UV stable HDPP special moulded to goal's profile shape for a secure fit
Weights require filling with sand, stone, metal or water (not included)
Don't just take our word for it
Want to chat?
Contact us here and we'll get back to you as soon as possible.
Buy today, play tomorrow
Order by 9pm for next day delivery
Questions & answers
Ask fellow customers what they think!
Hide Q&As
Questions & Answers
No one has asked a question yet!
You may also like
16 x 7 FORZA Alu110 Socketed Football Goal
£699.99
18.5 x 6.5 FORZA Alu110 Socketed Football Goal
£789.99
12 x 6 FORZA Alu110 Freestanding Football Goal
£1,199.99
16 x 7 FORZA Alu110 Freestanding Football Goal
£1,499.99