FORZA 4.5ft Boundary Poles [Pack of 4]
FORZA 4.5ft Boundary Poles [Pack of 4]
BOUNDARY POLES FOR MARKING OUT SPORTS PITCHES, COURTS & MORE
WHITE PVC POLES
The 4.5ft boundary poles come in a hard-wearing coated white PVC material that offers excellent visibility due to the striking white colour scheme.
MULTI-PURPOSE USE
The PVC boundary poles can also be used as a slalom pole or as a corner flag, making the 4.5ft poles ideal for all sports.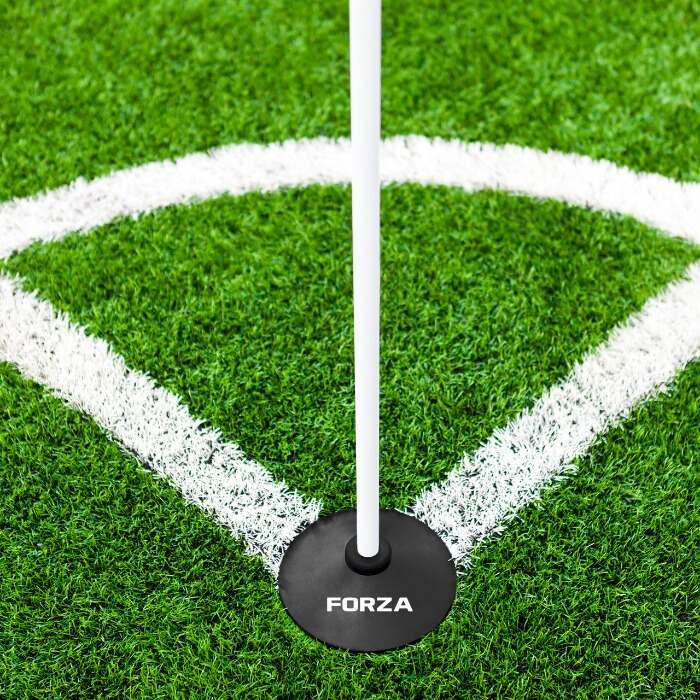 MOULDED RUBBER BASE
You can choose to get the 4.5ft poles with 1.5kg (3lb) weighted bases made from rubber, to ensure the poles stay where they are placed.
Description
PACK OF 4 MULTI-PURPOSE BOUNDARY POLES WITH OPTIONAL WEIGHTED BASES
Supplied as a pack of 4, the boundary poles are best suited to marking out boundaries, courts, fields and sports pitches. Standing 4.5ft (1.4m) tall, these line marking poles can be used indoors or outdoors for a variety of sports. The versatile poles are manufactured from white coated PVC, which is waterproof and highly durable. Whether you want to use the poles for speed and agility drills, corner flag poles or training session markers, you can find a valuable use with these 4.5ft poles. The agility poles are available with optional 1.5kg (3.3lb) black moulded rubber bases.
FORZA 4.5ft (1.4m) Boundary Poles [Pack of 4] – Sold as a pack of 4 with optional weighted rubber bases
A versatile piece of training equipment that has many different uses
Can be used for multiple sports on any surface indoors or outdoors
Excellent for resolving pitch/court marking problems in any sport
Manufactured from white coated PVC, making this multi-use training equipment waterproof
Specifications
FORZA 4.5ft Boundary Poles [Pack of 4] Specifications
Dimensions:
Pole Height: 4.5ft (1.4m)
Pole Width: 25mm (1in)
Pole Base Diameter: 22cm (8.7in)
Pole Base Weight: 1.5kg (3.3lb)
Materials:
Poles made from white coated PVC, which is waterproof
Pole bases made from black moulded rubber
Miscellaneous:
Want to chat?
Contact us here and we'll get back to you as soon as possible.
Buy today, play tomorrow
Order by 9pm for next day delivery
Questions & answers
Ask fellow customers what they think!
Hide Q&As
Questions & Answers
No one has asked a question yet!