3m x 2m FORZA Alu60 Football Futsal Goal
3m x 2m FORZA Alu60 Football Futsal Goal

3m x 2m Alu60 Futsal Football Goal - Official Regulation Size Football Goal For Futsal
Change The Face Of The Beautiful Game With This Full Size Futsal Goal
Meeting official internationally-recognised size regulations, this 3m x 2m football goal has been designed to add a premium touch to futsal matches and tournaments. Suitable for use on indoor pitches as well as outdoor surfaces, this versatile futsal goal is a real game-changer.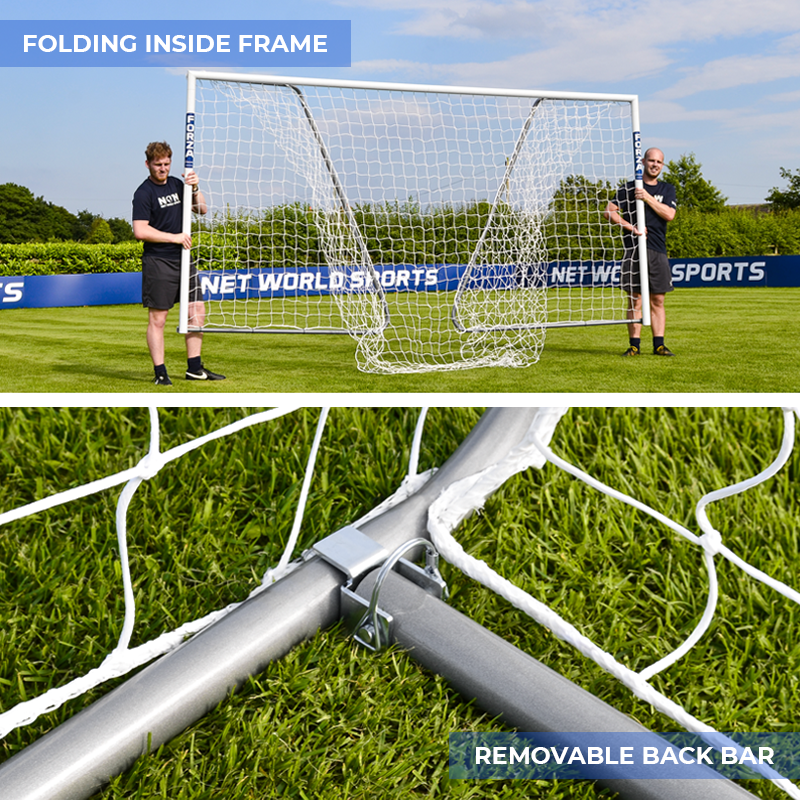 Heavy Duty Aluminium Futsal Goal With Is Easy To Transport And Store
Built with the strength to last for countless fast-paced futsal matches and training sessions, the 60mm reinforced aluminium goal is a jack of all trades, as its frame is light enough to be carried by two people. For quick and easy storage, the foldaway steel side frames are easy to use.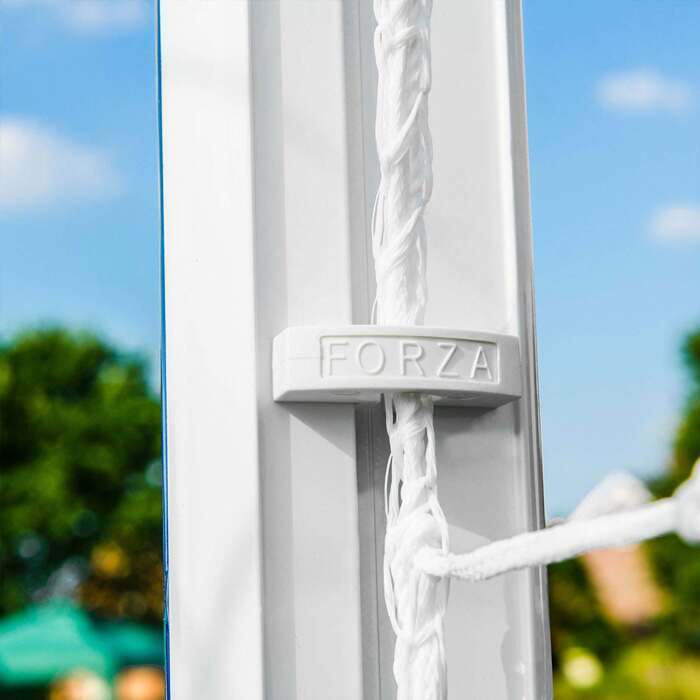 Enjoy Samba Flair In All Conditions With This Weatherproof Futsal Goal
While futsal is more evocative of eye-catching skills in the blistering South American sunshine, the weatherproof posts and HDPE goal net bring the heat during all weather conditions. This all-weather futsal goal is capable of being left outdoors without falling foul to rust and corrosion.
Description
Give Show Stopping Samba Skillsters The Premium Football Goal They Deserve With This 3m x 2m Regulation Size Futsal Goal
Futsal is making waves throughout the beautiful game, striking a chord with football purists due to its technical and skill-based nature. This official regulation size 3m x 2m football goal for futsal delivers the heat of breathless, thrill-a-minute action to playing venues up and down the country. Suitable for indoor or outdoor use, this aluminium futsal goal can be used for back garden skill training sessions, fully-fledged tournaments on indoor hard courts and even small-sided beach football kickabouts. This versatile futsal goal is as revolutionary as the game itself.
3m x 2m official regulation size football goal for futsal matches, tournaments and training sessions
High-strength goal frames manufactured from 60mm reinforced white powder coated aluminium
The freestanding futsal goal can be moved by two people due to its lightweight goal frames
For ease of storage and enhanced mobility, the goal boasts galvanised steel foldaway side frames
The weatherproof futsal goal also has a 3mm HDPE braided net and is suitable for indoor or outdoor use
From rigorous skill coaching sessions to the cut and thrust of a competitive futsal tournament, the sturdy manufacturing of this 3m x 2m football goal for futsal can handle whatever comes its way. The 60mm reinforced aluminium framework is highly reliable, ensuring that it won't come unstuck when faced with powerful skill shots. Providing seasons upon seasons worth of use, this high value professional quality futsal goal has the durability to become a mainstay of your set up. Powder coated in a classic white, the weatherproof frames can perform optimally both indoors and outdoors.
Take your aluminium futsal goal on the road. High in strength while maintaining a light in weight touch, the portable futsal goal can be shifted up and down the pitch by two people, providing premium mobility to match its heavy duty design. While futsal is typically played in indoor hard courts, the versatility of this aluminium futsal goal means it can be utilised on any surface, making it perfect for coaches, sports centres and schools as well as clubs. The weatherproof futsal goal can be left assembled outdoors, although should you wish to store it away post-use, the space-saving foldaway side frames facilitate simple storage.
These cutting-edge futsal football goals have the mark of approval, as they have been tested to BS EN 8462 safety standards. Designed to remain stable and secure throughout rapid matches and coaching sessions, the sturdy aluminium futsal goal is the best 3m x 2m football goal on the market. Lining up alongside the highly durable goal posts is an equally weatherproof HDPE braided goal net, finished in a classic white to merge tradition with a modern twist. Add a premium edge to small-sided futsal matches and training sessions with this 3m x 2m aluminium futsal football goal.
Specifications
3m x 2m FORZA Alu60 Football Futsal Goal
Dimensions:
FORZA Alu60 goal size (width/height): 3m x 2m (10ft x 6.5ft)
3m x 2m football goals are the internationally recognised size for futsal
FORZA goal top runback: 90cm (35in, approximately 2ft 11in)
FORZA goal bottom depth: 104cm (41in, approximately 3ft 4in)
Bottom depth has been significantly reduced making this goal ideal for indoor futsal games where space is at a premium
Materials:
Futsal goal is manufactured from 60mm diameter reinforced aluminium and powder-coated white
Aluminium goal frame provides fantastic protection against rust and corrosion
Galvanised steel foldaway side frames
Quick release galvanised steel detachable back bars
All connecting bolts and nuts are manufactured from the finest quality stainless steel
Each futsal goal includes heavy duty and weatherproof white 3mm HDPE braided football net plus twist & lock-style net clips for easy attachment
Miscellaneous:
Weight: 18kg (39lbs)
Each individual futsal goal will be delivered in three boxes – Box 1: 1920x220x65mm, Box 2: 1710x250x65mm and Box 3: 345x285x175mm
Goals will be delivered in flat pack form and will require assembly
It is advised that the following tools would be useful to help with assembly: mallet, wrenches, ratchet with sockets
1 year guarantee as standard with all FORZA football goals
Conforms to British Standards and Football Association safety regulations
Independently tested to BS EN 8462 Safety Standards [Watch The Video Here]
Goals conform to FA Match standards. Net World Sports is recognised by the FA as a suitable supplier of football goals
PLEASE NOTE - This goal is also a regulation size Handball Practice Goal. Perfect for sports centres and schools looking to maximise their usage of the goal
Don't just take our word for it
I ordered a pair of these just to trial at our school as the students really wanted to try futsal and I have to say, I have been very impressed. I think we'll be purchasing more of these in the new school year – delivery was super quick too!
Want to chat?
We're here on

live chat

right now!
Or via phone or email if you'd prefer...
Buy today, play tomorrow
Order by 9pm for next day delivery
Questions & answers
Ask fellow customers what they think!
Hide Q&As
Questions & Answers
2 questions | 2 answers
The specs say: Galvanized steel foldaway side frames Quick release galvanized steel detachable back bars Does that mean they are easily foldable for storage purposes?
Hi Duane, thank you very much for the enquiry. Yes, that is correct, you can remove the bottom back bar, this allows the sides to fold in and make the goals easy to store.
Kind regards,
Grant
What is the depth of these goals?
Hello Nick, Thank you for your question. The bottom depth of this goal is 41in (3ft 4in) while the top depth of the goal is 35in (2ft 3in) Many thanks, Tom
You may also like
16 x 4 FORZA Alu60 Football Goal
£359.99
16 x 7 FORZA Alu60 Football Goal
£449.99
Stop That Ball™ - Ball Stop Net & Post System
£79.99
3m x 2m FORZA Alu110 Socketed Futsal Football Goal
£589.99
3m x 2m FORZA Alu110 Freestanding Futsal Football Goal
£1,299.99