16 x 7 FORZA Alu110 Freestanding Stadium Box Football Goal
16 x 7 FORZA Alu110 Freestanding Stadium Box Football Goal

16 x 7 Freestanding Stadium Box Football Goal For 9-A-Side Youth Matches
Stadium Grade Box Goal Net With A 4-Point Net Tension System
The 16 x 7 stadium box football goal comes equipped with a premium quality 5mm braided HDPE twine box goal net which fits perfectly to the goal frame. Kept taut and in shape by a 4-point net tension system combined with back bracing bars, the top of the range all-weather goal net is a reliable performer.
Make Your 9-A-Side Match Goal Portable With Heavy Duty Wheels
There is the option to add the best football goal wheels on the market. The heavy duty lever type box goal wheels facilitate quick and easy movement by lifting the goal 100mm off the ground with its cutting-edge CAM mechanism. Designed for reliable mobility, the puncture proof wheels will add a new dimension to your goal.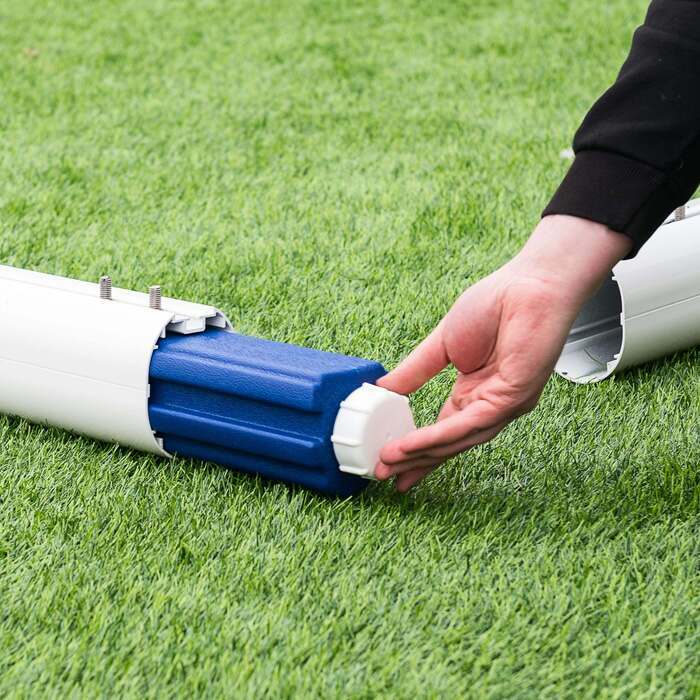 Stop Unnecessary Movement With Optional Counterbalance Weights
Independently tested to BS EN safety standards, the stability of the 16 x 7 stadium box goal can be further improved with the addition of internal counterbalance weights. Specifically moulded to seamlessly slot into the profile of the goal frame, the easy to use weights provide added protection against loss of shape.
Description
Regulation Sized 16 x 7 Freestanding Aluminium Stadium Box Football For Enhancing Youth Team 9-A-Side Matches
Change the face of 9-a-side football matches with the premium quality of this 16 x 7 stadium box football goal. Freestanding in design and made from highly durable material, the stadium box goal adds a professional touch to 9-a-side matchdays, with the necessary versatility to take training and coaching sessions to new heights. The toughness, mobility and high levels of quality set this 16 x 7 stadium box goal apart from regular junior football goals, revolutionising the 9-a-side matchday experience..
Reliable 5mm braided stadium box goal net which retains its shape without sagging down the middle
Perfect box net shape facilitated by a 4-point net tension system and steel back bracing bars
Goal frame is made from premium 110mm reinforced powder coated aluminium
Optional lever type goal wheels provide portability with the ability to lift the goal 100mm off the ground
Take relevant safety precautions by adding the optional internal counterbalance weights
Evoking the look and feel of the goals found on Premier League pitches, the smaller sized 16 x 7 stadium box football goal brings table-topping quality to 9-a-side youth teams. The goal features a 5mm braided HDPE goal net, which has been tailored to maintain the perfect fit no matter what punishment ambitious junior plays deal out to it. Perfect for coaches looking for a reliable stadium box goal, the rot-resistant box goal net will perform to its optimum capacity all year round. UV stabilised and built to last, the all-weather stadium box goal net is in it for the long haul.
Suitable for pulling double duty during 9-a-side matches as well as training sessions, the long-lasting thick box goal net is a cut above the rest. Lesser box goal nets commonly sag down the middle, a pitfall which is non-existent throughout the pristine design of this HDPE box goal net. This premium box goal net shape is achieved due to the combination of a unique 4-point net tension system and galvanised steel back bracing bars, which tension the net for the ultimate levels of tautness. Keeping the heavy duty box goal net fixed in shape throughout all matches and training sessions, this is the most reliable stadium box goal net on the market.
Made from premium materials, the 16 x 7 stadium box football goal can keep up with the pace during rigorous matches and training sessions. Utilising highly durable 110mm reinforced aluminium in its manufacturing, the box stadium goal will look as good as new over the course of multiple seasons, with a white polyester powder coated and scratch-resistant finish which has been designed to combat the elements. The weatherproof 16 x 7 stadium box football goal is can also be left assembled outdoors without becoming damaged by rust or corrosion, offering convenience to match its quality.
While the freestanding stadium box goal for juniors is light in weight as well as being heavy duty, our very own optional goal wheels make manoeuvring the goals a simple pursuit. The lever type football goals have been designed to do the heavy lifting for you, with a CAM mechanism integrated into the wheels bracket which lifts the goal up to 100mm off the ground. Puncture proof and high quality, the black rubber goal wheels have a lengthy lifespan and can be applied to all surfaces, offering supreme portability on all pitches. p>
This 16 x 7 stadium box football goal has been independently tested to BS EN 748/8462 safety standards and comply with worldwide match regulations. For enhanced health and safety measures, our optional internal counterbalance weights can be included to ensure that the freestanding football goal doesn't shift when struck by the ball. The unassuming goal weights place securely into the goal frame, protecting against overturning and guaranteeing safety. The professional quality of this 16 x 7 stadium box football goal makes it the best 9-a-side matchday football goal available.
PLEASE NOTE - Custom coloured goal nets are available upon request. Please contact our friendly customer support team for further information.
Specifications
16 x 7 FORZA Alu110 Freestanding Stadium Box Football Goal
Size
Design
Premium box goal net shape
5mm HDPE braided box stadium goal net
Net is tensioned by a unique double ratchet system
Extra back bracing bars for enhanced stability
Net does not sag in the middle, providing the ultimate goal net
Goal Frame Materials
Club spec goal is manufactured from 110mm diameter reinforced aluminium and powder-coated white
Aluminium goal frame provides fantastic protection against rust and corrosion
Fully weatherproof and highly durable
Optional Extras
Heavy duty lever type anti-puncture wheels for easy portability
Internal counterbalance weights for enhanced safety measures
Miscellaneous
Goals will be delivered in flat pack form and will require assembly
It is advised that the following tools would be useful to help with assembly: mallet, wrenches, ratchet with sockets
1 year guarantee as standard with all FORZA football goals
Please Note: This goal has been independently tested to BS EN 748 safety standards. To view the video please click here.
Goals are independently tested to BS EN 748 safety standards and comply to FA, UEFA and FIFA regulations
Goals conform to FA Match standards. Net World Sports is recognised by the FA as a suitable supplier of football goals
Don't just take our word for it
Simply amazing goals, great price and a purchase you will not regret.

Heard about the brand FORZA from family and friends over the years so thought I would try for myself. Will definitely be looking at other products which sit within the range too. I was very impressed overall with the quality of the goals and the service I received. Cheers.

I bought a pair of these goals for our club a few years ago and was really impressed with the quality and durability. I have recently ordered some more of the goals for the upcoming season and noticed the option for 360 wheels. This has made the goals much more mobile and reduced the time taken to set up training and match sessions, I would highly recommend!
Want to chat?
We're here on

live chat

right now!
Or via phone or email if you'd prefer...
Buy today, play tomorrow
Order by 9pm for next day delivery
Questions & answers
Ask fellow customers what they think!
Hide Q&As
Questions & Answers
No one has asked a question yet!